BARBECUED / ROAST QUAIL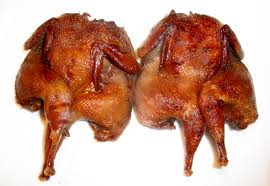 10Quails (1 per normal person, 2 per hungry person)
125ml Soy Sauce
5 tblsp roasted Sesame Oil
250g Hoisin Sauce
3 tblsp Rice Wine Vinegar
5cm piece of fresh Ginger
2 cloves Garlic - minced
juice of 1 Orange

Ask our butchers to spatchcock the quail, or do it at home with a pair of kitchen scissors. Trim the wing tips off, then cut along both sides of the back bone to remove it, then squish each quail flat.
Mix all the ingredients for the marinade in a jug, then divide the mixture between 2 large freezer bags. Put 5 quail in each bag and seal. Alternatively put the quail in a large baking dish, pour the marinade over and cover.
Leave to marinate in the fridge for 24 hrs, or longer - 48 hrs won't hurt.
Put your oven to very hot, or heat the grill.
Take out of the fridge to let them come to room
temperature. Spread the little birds out in a large roasting tin or on a grilling tray, complete with the marinade. Either roast in the very hot oven, or grill. They should only take 10 - 15 mins. I roasted mine for 10 minutes then turned on the overhead grill to caramelise the skin for another 5 minutes.
Serve with lots of paper napkins or finger bowls, as fingers are the only way to enjoy these delicious little game birds.