PORK FILLET WITH BRAISED FENNEL, PEAR WHITE WINE AND BLACK PUDDING (4 PEOPLE )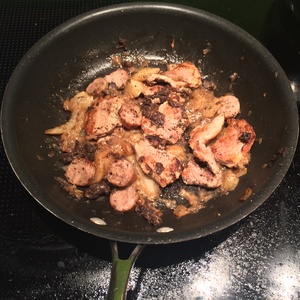 This recipe just came to me...I was thinking about pork and fennel and what a sublime mix it is, and wondered if I could invent my own take on it for a weekend dinner party, or just a decent meal for the family. The final result does take a while to realise (maybe 50 minutes), but it is time well spent, and I would urge you to give it a go as it's really easy to make.
Italians know that pork and fennel go well together, which is why I have included a couple of our pork and fennel sausages in the recipe, as well as raw fennel which is cheap and in season at the moment. The recipe is enhanced by the use of any Aniseed Liqueur such as Pernod or Arak or Ouso... but if you don't have any, then use white wine, or change the emphasis of the dish and use some pear cider to complement the braised pear...

I find our Spanish Black Pudding "Morcilla de Andalucia" (or indeed any Black Pudding) is a really good pairing for Pork. You don't need a great deal, but the flavours really do complement each other well.

So here goes.......


PREP TIME:- 15 MINUTES
COOKING TIME: 35 minutes.


INGREDIENTS:- (for 4 people):

1 large Pork Eye Fillet cut into 1cm rounds, 2 Pork and Fennel Sausages cut into chunks, one whole Morcilla de Andalucia (or any black pudding), One Whole Fennel, trimmed and sliced (keep the fronds for garnish), One large Pear, peeled, cored and cut into slices, 1 large glass of White Wine OR one shot glass of Pernod/Ouzo/Arak, 100mls Chicken Stock, big knob of Butter.


METHOD:
Set out all the ingredients, and bring out a couple of frying pans.

Put a good dollop of butter and olive oil in a frying pan and allow it to melt, then add the sliced fennel and braise, half with the lid on and half with the lid off...at a low temperature for about half an hour or until it is nicely browned and soft. After about 15 minutes initial cooking time for the fennel, add the sliced pear and soften it alongside the fennel...

While the fennel is cooking, put a small amount of oil in a frying pan and cook the pork and fennel sausage chunks for about 8 minutes until cooked. Pull out the sausages and keep warm, then throw in the pork fillet rounds, upping the heat a little, cooking for only a couple of minutes a side, remove from pan and keep warm.

Put some water into a small pan and bring to the boil. When boiling, turn off the heat, throw in the Black Pudding, and allow to warm through in the hot water for a few minutes, then remove and place on a flat surface, and with a knife, push out the stuffing from within the black pudding skin onto the surface. Keep it there to sprinkle onto the finished dish.

Meanwhile, when your fennel is a lovely soft brown, throw in the Aniseed Liqueur or White Wine, as well as the stock, and allow to reduce to half the initial volume.

The dish is nearly done, so when you are ready to serve, throw in the sausage, the pork fillet rounds and sprinkle over the black pudding. Check for salt and pepper and if there is not enough liquid in the dish, then add a little water to the pan and allow to mix.

Remove from heat, sprinkle over the finely chopped fennel fronds, and serve onto warmed plates.

TO SERVE: serve on warmed plates with some Mashed Potato or just some decent Farmhouse Bread. At a push you could make some Polenta, but I feel that the dish stands up on it's own and some decent bread to go with it is all you really need. The dish is FULL OF DIFFERENT FLAVOURS, and they all complement each other, so give it a go...it's dead easy !!

AND TO DRINK ? this dish lends itself to either Fruity White Wine, such as a Resiling or even better, a Gewurtztraminer.