CHICKEN SCHNITZELS WITH A FRICASSEE OF POTATOES AND VEGGIES:-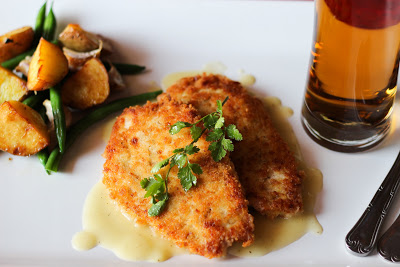 INGREDIENTS: (for 4 to 6 people-

4 to 6 good sized Chicken Schntizels (more if they are small...you need about 800g for 4 people and 1kg for 6). 3 to4 medium sized Potatoes, peeled and chopped into half inch dice, a bunch of Asparagus chopped into 1 inch long pieces (bottom part of stalks removed), 200g of Button Mushrooms, cleaned and chopped into halves, 4 cloves Garlic chopped into fair sized slithers, 2 Spring Onions/Shallots cut into half inch pieces. Plenty of Olive Oil, Salt and Pepper. Some Cayenne to finish (optional).

METHOD: This is another really easy and quick Midweek meal that is tasty and healthy...everyone will love it.


Put a fair bit of Olive Oil in a frying pan, until half inch deep, heat it up and throw in the potato dice. Cook these over a medium to high heat for about 12 to 15 minutes, until they are starting to be done and turning brown and crispy. Then drain off nearly all the oil and keep for the schnitzels if it's not too messy. Throw in the Asparagus and the Mushrooms and cook for a further 5 minutes. Then throw in the chopped Shallots and stir around for a minute or so. Taste for seasoning, remove it all from the pan, place in a bowl lined with kitchen roll, and move to a warm place whilst you do the Schnitzels in the same pan. To do the Schnitzels, put the old oil back in the pan and cook the Schnitzel over a medium to hot (but not too hot or they will burn) heat for 2 to 3 minutes a side. Remove and place on kitchen roll to dry off.

Serve immediately with the Potato and Vegetable Fricasse.


OPTIONS: Whisk in a Tbsp of Cream or really reduced Chicken Stcok into the fricasse at the last moment, just before serving.
.

AND TO DRINK: A light beer or a glass of dry white wine.