Herbed Lamb Cutlets
:-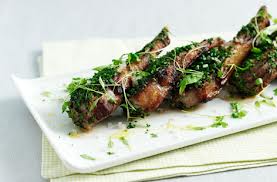 INGREDIENTS (for Four People), :-
12 Lamb Cutlets, Olive Oil, mixed freshly chopped herbs, salt and pepper. The herbs used are really up to you. I would recommend you use Parsley, Rosemary, Thyme and Chopped Chervil or Finely Chopped Shallots.
PREPARATION TIME
: Two minutes to prepare, and 8 minutes to cook.
METHOD:
Bring the cutlets out of the fridge and allow to warm up to room temperature for half an hour (less if it's a hot day). Brush both sides with olive oil. Finely chop and mix the herbs, salt and pepper in a bowl and press them into one side of the flesh. Place the cutlets in a hot frying pan or throw onto a medium hot BBQ. Cook, herb side down for three to four minutes. Apply more herb mixture to the side to be turned over and then turn the cutlets over for another three to four minutes, or until done to your liking. I think they are best served still pink in the middle. Adjust seasoning as required and let sit for a couple of minutes before eating. Take care not to burn the herbs...

SERVE WITH:-
I would recommend a pasta salad, or a potato salad. Maybe BBQ potatoes ( parboiled big wedges of potato, skin on, oiled and browned up on the BBQ, then smothered with garlic butter !!!).