Lamb Leg Steaks with a Port Sauce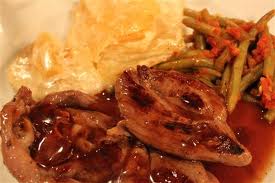 Lamb leg steaks are also on special for only $10.99/kg, so I have decided to do one of my favourite lamb recipes to help promote them a little more !!!
INGREDIENTS (for four people)

:- Four to six thin cut Lamb Leg steaks, about 1.5 cm thick, (not overly trimmed)
.
3 garlic cloves, 4 sprigs of Rosemary, a tbsp of fresh Oregano, juice of one Lemon, Salt, Pepper, One cup of Port, 3 tbsp of thickened Cream (optional).
METHOD

- For the Marinade:- in a pestle and mortar, grind the garlic, salt, pepper, lemon juice, rosemary and oregano into a paste which you then smear onto the lamb leg steaks, cover, and leave in the fridge for a few hours, (or out of the fridge for an hour or so if you are pushed for time).

Heat a griddle pan until very hot with a little olive oil, then throw in the steaks (this can obviously also be done on the BBQ). Seal on a high heat for a minute or so, then lower the heat and cook for about 3 minutes a side until done to your liking. Be careful not to overcook the steaks as they do tend to toughen up when overdone.



FOR THE SAUCE:-

remove the steaks from the pan and pour in a cup of port (any kind), deglazing the bottom of the pan with the port, and cooking to reduce to about half. Then add the cream to thicken, taste for seasoning and serve. If you do not want to put in cream, then a large knob of butter would be okay as well. Or if neither suits you then thicken with some corn flour and water/milk. Check for depth of flavour and if missing something then chuck in a teaspoon of soya sauce or perhaps the same of Worcestershire sauce. Pour over the steaks and serve immediately.

SERVE WITH

: M
ashed potatoes to soak up the sauce, or even Tagliatelli. Sweet potatoes done for about 7 minutes in the microwave, then peeled and very roughly mashed with salt, pepper and lemon juice would be good also. Or roast some pumpkin and potatoes together. For the adventurous, roasted Jerusalem Artichokes and Roasted Red Capsicums would be divine...
SERVE WITH:
A full bodied red wine, such as a Cab Sav, or Shiraz.