Twice Cooked BBQ Beef Cheeks with a Rich Sauce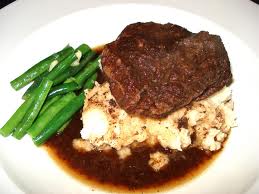 This recipe just came to me...inspired by our love of BBQ food, and a desire to show that cheap cuts can work well on the BBQ, all you need to do is a little advance preparation. The secret is to twice cook the beef cheeks. They are then breadcrumbed to portion size and finished off on the BBQ whenever needed. The sauce is made from the liquid they were cooked in and should be thick and sticky.....

INGREDIENTS: for 6 people. Six well trimmed beef cheeks...ask us to trim them for you and, if you wish, to also cut them into portion sizes (about the size of a big burger). One large onion diced, one large carrot roughly chopped, two star anise, big cup of decent red wine, 500ml of beef or chicken stock, a bay leaf, dash of Worcestershire Sauce, tbsp of tomato paste, 3 cloves of garlic roughly chopped. You can also throw in some chopped celery or even a chopped parsnip for extra flavour...all as you wish.
Egg, flour and breadcrumbs for the final coating.
Cream or butter to finish the sauce.

METHOD:- FOR THE MEAT. Heat some oil in a pan to hot and brown the beef cheeks on each side for a couple of minutes. Remove the cheeks and place in a big pot. To the same pan add the vegetables and a little more oil and cook until they have softened and browned. Remove and add to the pot. Deglaze the pan with the stock and red wine, add in the tomato paste, herbs, Worcestershire Sauce, star anise and seasoning and check for flavour before pouring over the beef cheeks in the pot. Make sure the beef cheeks are just covered with liquid.

Place the pot in a warm 120degC oven and cook for about 4 hours, or until the meat is about falling apart.

Remove the beef cheeks, carefully trying not to break them up...you need them whole !! Put them on a plate. They are done and may now keep for a few days if necessary until you want to use them. It is important to now cool them down, so whack them in the fridge for a while so that they firm up a little.

FOR THE SAUCE: Reduce the cooking liquid over a high gas heat until about half remains, then remove all veggies with a sieve from the sauce. Taste the sauce again, and if necessary add more seasoning, more Worcesterhsire Sauce, or even a little port to give it body. It should already be good enough to eat as a broth or soup. With the veggies removed, again reduce the sauce, watching it closely and encouraging the brown bits left on the side of the pan to reincorporate with the liquid as that's good flavour you don't want to throw away.
When the sauce has been reduced to about a large cupfull left, then it is nearly done. Taste again for flavour and do any final seasoning adjustment. It may keep like this now for several days.

FOR THE BBQ: When ready to serve the Beef Cheeks, remove them from the fridge. Dust them in flour, then in some mixed egg solution and crumb them with breadcrumbs. You may wish to do a double crumb if the initial one is too thin. Then finish them off on the BBQ, slowly browning the breadcrumbs and warming through the meat. This may also be done in a pan with some oil in it, or even in the oven on a medium to high heat.

For the sauce, warm it through in a pan or small pot, final taste for seasoning and add a big knob of butter to thicken or even some double cream warmed through.
Alternatively you could thicken it with some corn flour and 50/50 milk water mix. The sauce should be rich, flavoured with the star anise, and fairly thick...like single cream.

Serve the sauce around the sides of the beef cheeks. Do not pour over the top...you want the crunch of the breadcrumbs.

Your reward !! A crunchy coating, with deeply flavoured, unctuous, soft meat within, set off against a rich sauce peppered with flavours of star anise...

SERVE WITH:- Mashed potatoes, gnocchi, boiled new potatoes (maybe Kipfler would be best). Veggies to go with it...some sugar snap peas, asparagus, Bok Choy, peas....
And to drink...well you would have to have a nice glass of red would you not ?? Maybe a Shiraz or something else nice and deep....