LEMON, THYME & GARLIC MARINATED CHICKEN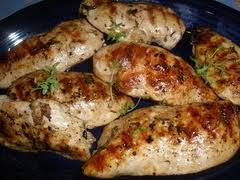 This is the EASIEST of Chicken dishes, but is absolutely one of the tastiest and probably the most tender as well....the secret being in the lemon juice which cures and tenderises the chicken before you cook it !!! PREP TIME 5 MINUTES, 60 MINUTE MARINADE AND 5 MINUTE COOK TIME.

INGREDIENTS (for 6 people):- Three large single chicken breasts, juice of three large lemons, small bunch of finely chopped fresh thyme, six cloves finely crushed garlic. Salt and pepper.

METHOD-
1/ MOST IMPORTANT ! Make sure the chicken breast pieces are not more than 15mm thick. As a rough guide, chop off the narrow end whole and run your knife between the thick end to make two pieces. This is important to ensure the lemon juice penetrates and the quick cooking time is achieved.

2/Into a tight fitting ceramic bowl, squeeze out the lemon juice, add the thyme and garlic and add the chicken, coat generously. Leave for 40 to 60 minutes for the chicken to cure. Do not refrigerate during this time, but leave, covered on the kitchen top.

3/ Heat up the BBQ or a ribbed frying pan with a hint of olive oil. Drain the chicken from the marinade and when the pan or BBQ is really hot, then throw on the chicken pieces. We are looking for nice brown/black griddle marks on our chicken, which need only cook for about three minutes a side, as it is already "cooked" by the lemon juice (you may have noted it had changed colour prior to chucking it in the pan). When you flip the breast over, and the second side is cooking well, you may throw the marinade in the pan along with the chicken and watch it quickly reduce to next to nothing, although the chicken will pick up bits of garlic and thyme. DO NOT OVERCOOK...the chicken must be barely cooked through...two to three minutes a side only.


TO SERVE; I would probably keep it simple and serve the Chicken with Hot Chips and Homemade Mayonnaise. Or if I had some old rice in the fridge, then some fried rice would go well with it. As for veggies, chicken is very versatile, but I prefer my Grated Zucchini with Garlic (simply grate 4 zucchini onto a towel, dose with salt, leave for ten minutes, then gather the towel up and squeeze all the moisture from the zucchini, then gently fry in butter/oil mix with 4 cloves of roughly chopped garlic for about 5 minutes).