LAMB CUTLETS WITH BEETROOT AND SALSA VERDE: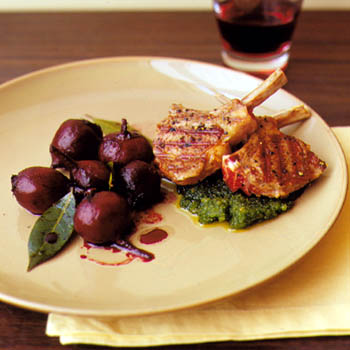 This recipe marries together some strong flavours, sweet and sour and different textures and colours. It is PERFECT for a lovely intimate dinner or for entertaining, as the cutlets may be done at the last moment and everything else well in advance. The colours really do stand out in the dish, the flavours bang together in a strange but delightful way, and best of all, it's DEAD EASY to make, so give it a go:- PREP TIME 15 MINUTES, COOK TIME ABOUT AN HOUR.

INGREDIENTS (for 6 people): 12 - 18 Lamb Cutlets (depends how generous you wish to be), 600g of small whole beetroot (or chop up the large ones if you can't get the small ones), olive oil, salt and pepper. For the Salsa Verde, you will need a bunch of Parsley, half a bunch of Coriander, 1 tbsp of pickled Gherkins or Cornichons, juice of one large Lime or Lemon, 1 tbsp of Capers, 200ml of Olive oil, half a tin of Anchovies, 1 tsps of Sugar, Salt and Pepper to suit. OPTIONAL...half a bunch of fresh Basil and/or half a bunch of fresh Mint.

METHOD FOR THE BEETROOT:-
Clean and scrub the Beetroot, and if using the baby ones, coat with olive oil and salt and place in a pre-warmed oven tray and roast on a medium to high heat (say 180degC) for 45 minutes to an hour depending on size. They are done when there is little resistance to a knife's insertion. At that point you can either leave them as is (more rustic) and keep warm in the oven with tin foil over them, OR you can peel and leave as is, OR, you can peel and place half the beetroot in a blender with some olive oil and pulse to a paste, leaving the other half whole or in quarters. If you are using some blended beetroot, then use this as a base upon which to place the other beets and the lamb cutlets ...it all makes good colour on the plate. Remember your eyes are important for whetting up your appetite....

METHOD FOR THE SALSA VERDE:
Place all the ingredients apart from the parsley and coriander (and basil and mint if using) in a blender and whizz to a paste (trying to keep some small lumps so that you can see each ingredient's integrity), then add the herbs and pulse on and off to achieve a sauce that is not a paste. Alternatively you can finely chop everything, but that takes ages and you can do it by pulsing the blender.

The Salsa Verde is important in this recipe as it balances out the sweetness of the Beets and also reins against the richness of the Lamb Cutlets. AND it looks great on the plate !!

THE CUTLETS: It is easy to overcook cutlets and I am also often guilty of giving them too much heat for they can toughen up that way. So I now tend to start them off on a really high heat for a minute a side to brown them and then drop the heat to medium and cook them for another couple of minutes a side until pink. Add another minute or so for better done. Serve immediately.

PLATING UP:-
Spread some Beet paste down on the plate and the lamb cutlets propped up on top, then with a big dollop of the Salsa Verde on the side and the rest of the Beets next to it. Go for maximum colour contrasts...

SERVE WITH:- Roast potatoes spring to mind, or mashed for that matter. Crispy Polenta would also work well and add another vibrant colour to the plate. And to drink, I would definitely go red, perhaps a soft Merlot.