RABBIT STEW WITH FRUIT AND WHITE WINE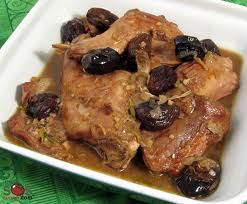 This is a recipe I invented in my student days when rabbits in Scotland were pretty much given away. Sadly in Australia we have the most expensive cooking rabbits in the world and for many it is beyond their budget. HOWEVER, we have got hold of some frozen rabbits that were on special and I am pleased to now offer this recipe to anybody out there who has thought about rabbit, but has been unable to realise their culinary curiosity thus far....

INGREDIENTS: for 4 to 6 people...ask us to cut up a rabbit into lumps, keeping the legs whole and the saddle in rounds. One large onion roughly chopped, two cloves of garlic finely chopped, four tbsps of white wine vinegar, 500ml of chicken or beef stock, one big glass of white wine, 100g of dried fruit. Four large potatoes cut into large chunks. I prefer prunes from a tin, but you could equally use sultanas, dried apricots, or even whole fruit jam. Optional double cream to finish off.

FOR THE STEW. Heat some oil in a pan to hot and brown the rabbit pieces, then remove and put in a cooking pot. To the frying pan add the onion, garlic and soften for a few minutes, then add the stock and the white wine, the fruit and the vinegar and warm through, deglazing the pan...Add this with the potato pieces to a cooking pot and cook, lid on, gently, on top of the stove for about an hour. Alternatively cook in a medium 160degC oven for an hour and a half. Remove from the heat and stir in the cream ( if using ) to finish the sauce off. If there is too much liquid then reduce, lid off until you have the right amount left.

SERVE WITH:- Crusty bread, and some bok choy or boiled carrots, peas, broccoli.....
And to drink...you could really do either white or red wine here...your call, as both will go nicely...but to encourage the sweetness of the dish, maybe a Reisling would go down best of all.