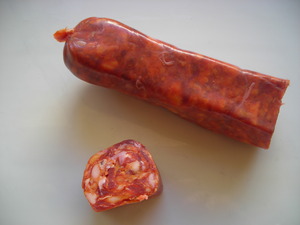 Background: Chorizo is a catch all name for a family of sausages from Spain and South America.
The Spanish invented it, and the Chorizo family includes salami style Sandwich Chorizo, which is cured and never cooked...but used for sandwiches and for anti-pasto plates, along with Jamon Serrano and other cured meats. We also sell this in the shop.

Then there is the fresh Chorizo, which is really just a fresh pork sausage with capsicums and Spanish Pimenton, or Smoked Paprika. See our Nonnas range of sausages for this version.

And then there is the Semi-Cured variety which is used to cook with, in casseroles, on the BBQ, or in salads...it may be spicy hot or just normal, and in Spain the normal variety is by far the most used. Our version of this noble Chorizo is made locally and sold to us by a Spaniard who arguably makes the best in town....

So here are a few ideas for the Semi-Cured Normal Chorizo..

CHORIZO A LA PLANCHA ( On the Barbie ) : - cut the Chorizo into half inch wedges and pan fry or BBQ quickly (one minute per side to brown) to eat as is, perhaps with bread or with a nice sharp flavoured cheese.

CHORIZO IN RED WINE: - cut the Chorizo into half to three quarter inch wedges and pan fry with a good slosh of olive oil for a couple of minutes on each side to brown, then remove from the pan. Allow half to one Chorizo per person. Add a good glassful of red wine such as a Shiraz or Cab Sav to the pan with some thyme and allow to reduce for about five minutes or until the wine has thickened up. Add the Chorizo back to the pan to warm through and serve in small bowls with thick bread.

CHORIZO AND GREEN BEAN SALAD :- cut a couple of Chorizos into half inch wedges, and brown in a good slosh of olive oil for a couple of minutes per side to get the oils to release from the Chorizo. Remove Chorizo from the pan and set aside and reserve the oils from the pan to add to the salad dressing. Par boil half a kilo of top and tailed Green Runner Beans for about three minutes, drain and refresh in cold running water. Chop a Spanish red onion into thin slices ( or a normal onion which you then soften by adding kitchen salt to it for about 10 minutes ). Make a salad with the beans and the onion and then sprinkle the Chorizo slices on top. Make a French Vinagrette with the oil you kept from the pan, mix with more olive oil (say two tablespoons), some white wine vinegar ( good slosh ), some French Dijon mustard ( two teaspoons ), some Honey or Sugar ( one teaspoon ), and salt and pepper to taste.. mix together to emulsify ( I find this is best done in a lidded jamjar, shaken liberally ), and pour over the salad....
This is a YUMMY salad, and a healthy way to eat Chorizo, particularly in the summer.

FOR WINTER, use Chorizo wedges ( just a few, say one whole chorizo ) in any pork casserole, or chicken stir fry, or with chick peas, or rice dishes for background flavour. It will enrichen and deepen the flavour of any casserole stock.