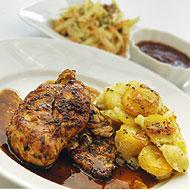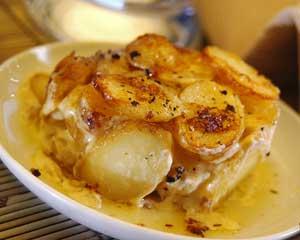 This dish is SIMPLE, but DELICIOUS, and will certainly impress friends and family alike.
For Four People: Four Single Chicken Breasts.
1.5kg of par-boiled potatoes ( boiled for around 8 minutes ), then sliced into thickish slices or rounds.
150 to 200gr of our homemade Porcini Mushroom and Prosciutto stuffing. Always available here at the shop...
4 garlic cloves, peeled and sliced, butter, oil, salt, pepper, single cream

METHOD: for the Chicken, leave out of the fridge to warm up a little, brush over with olive oil, sprinkle with salt, pepper and crushed thyme. Squeeze some lemon juice over the top. Put on the hot plate or the rack of the preheated BBQ on a high heat until browned on both sides. Reduce heat and cook for a further 15 minutes until the middle is just cooked through. If in doubt, slice a little bit off the end and see if it has lost its translucency and become more opaque. Salt again and serve straight from the BBQ.

Fot the Mushroom Potatoes: Grease or oil the bottom and sides of an ovenproof dish with a four inch (100mm) depth. Spread the mushroom stuffing along the bottom of the dish, and put a layer of potatoes on top. Put sliced garlic on top of the potatoes, add a knob or two of butter, some salt and pepper, then put another layer of potatoes, adding the garlic and the salt and pepper. When you are near the top of the dish, place more knobs of butter over the last layer and poor in some single cream until it comes about half way up the dish. Place in a hot oven (180 to 200degC) for about an hour, ( lid off ), or until the potatoes are cooked through and the top has browned. These potatoes will keep warm for AGES so you can make them well in advance...
Of course they are sinful, but if you serve them with a green salad or some boiled veggies, then you would be eating a balanced meal...just eat them with moderation if you are able to......which I, sadly, am not.

And to drink ?? Best served with a Shiraz, Cab Sav or for the more adventurous a Riesling that is not too sweet.