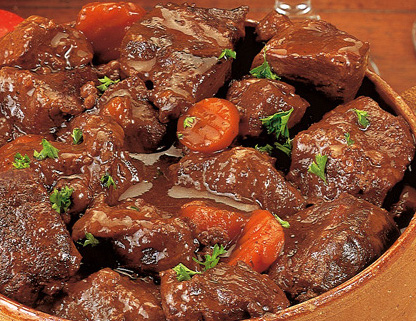 Recipe is for Four To Six People:

Ingredients: , 1kg of diced beef or diced lamb, 150gr of diced smoked bacon or better still Speck. One finely chopped large onion, one chopped celery stalk, two finely chopped carrots, two finely chopped garlic cloves (al together called a Mirepoix), one bottle of cheap Shiraz or Merlot. Big slosh of brandy or jack daniels, whisky, whatever you have. One big tablespoon of tomato paste. For the bouquet garni: three strands of orange peel, half a cinnamon stick, bashed rosemary sprig, some fresh thyme, two bayleaves and some fresh parsley, all tied together with string or an elastic band. Lots of ground black pepper. Corn flour mixed with 50/50 milk and water for thickening if desired. 500ml beef or chicken stock.

METHOD:
Make the bouquet garni by tying all the ingredients for it together, place in a non-reactive dish with the diced beef or lamb , together with the speck/bacon, red wine, brandy and the Mirepoix of vegetables (the celery, carrot, onion, garlic clove), add the black pepper and some salt. Put the lid on and leave to marinate for at least 12, preferably 24 hours. If you are pushed for time then marinate for less time, but do it out of the fridge.
After marinating, take out the beef or lamb, and pat dry, then coat with flour and some salt. Heat up some olive oil in a pan and brown the beef or lamb over a high heat for a few minutes. Remove the browned meat, put aside, then deglaze the pan with some of the red wine and the tomato paste.
Combine the beef or lamb with the marinade, the vegetables, the bouquet garni and the pan juices, beef stock and place in a hotpot or slow cooker, and place in a slow oven ( say 150degC ), and cook for around three hours. You may reduce the heat to 120degC and cook all day if you prefer. Remember that the meat you buy from Brookvale Meats is yearling grade beef which makes the dice already more tender than standard supermarket diced beef , and as a result you can get away with less cooking as the meat will be tender more quickly.
You may remove the lid for the last hour and a half if you wish to thicken the stew.
Alternatively you may remove the cooked beef and boil the liquid down to reduce it, or thicken it up with a glass of mixed corn flour and 50/50 milk and water.

The result is the most delicious beef or lamb stew out there. You can easily double the amounts and freeze some as it freezes really well. You can keep it on the stove top for a day before eating and it will IMPROVE !!

FRENCH COOKING TECHNIQUES: There are several at play here....using red wine to tenderise meat in a marinade. The use of a homemade Bouquet Garni to impart depth of flavour. The use of finely chopped vegetables as a Mirepoix, to add flavour.!! The French are not daft when it comes to cooking, and their influence is everywhere..."Vive la France" I say...

OPTIONS: You can add thicker chopped veggies, or whole mini carrots, mushrooms and pickling onions for the last hour, or even some black olives...

This recipe works equally well with either beef or lamb....so make it part of your repertoire....crikey, another French word !! Oh and why's it called a DAUBE ?? Well the word really means a stew, normally cooked in a Daubiere, or stewpot.

Easy for last minute as you can do all the hard work well in advance.

SERVE WITH: Mashed potatoes, maybe a salad to start....And of course, lots more of that Shiraz...maybe not as cheap as the one you threw in the Daube !!!