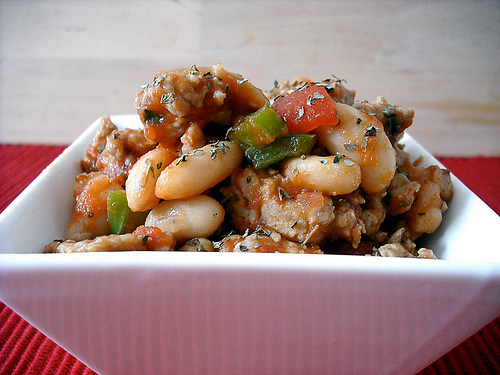 Recipe is for Six to Eight People, ready in 20 minutes start to finish:

Ingredients: , 1 x Butifarra Blanca and/or 1 x Butifarra Negra, both available from our shop. These are traditional Spanish white and black puddings. If black pudding is not desired, then only use the white pudding or Butifarra Blanca. Two cans of Organic Berlotti Beans or Organic Chick Peas ( again available in the shop), one big onion, sliced, four cloves garlic chopped, fresh or dried parsley, or mixed herbs, one packet 500ml beef or chicken stock (from your freezer or from our shop).

METHOD:
Gently fry the onion and the garlic for about five minutes, taking care not to brown or burn.
Skin the white sausage and chop into discs. Add discs to the pan and gently fry, turning until browned.
Add the chciken stock and herbs, check for seasoning and up the temperature to allow the stock to reduce down.
When the stock has nearly reduced away, add the skinned and sliced black pudding.
Continue cooking for a further five minutes.
The stew should be fairly thick, with not much liquid left.
You can keep it on the stove top for a day before eating and it will IMPROVE !! Just add a little more water if it has dried up.

This is the EASIEST dish to make, and is a meal in itself, having all the essential ingredients within it for a balanced diet..veggies, carbs and proteins...
It is absolutely jam-packed with flavour too...

OPTIONS: You can add other chopped veggies,and leave out the black pudding if you wish, or add a little white wine to the stock...

Easy for last minute as you can do all the hard work well in advance.

SERVE WITH: Maybe a salad to start, drink full bodied white or red wine with it...!!!