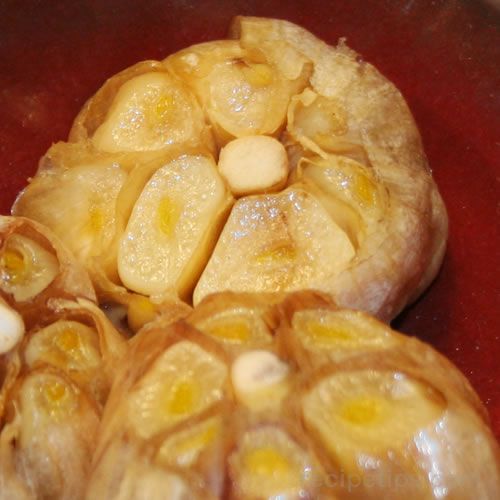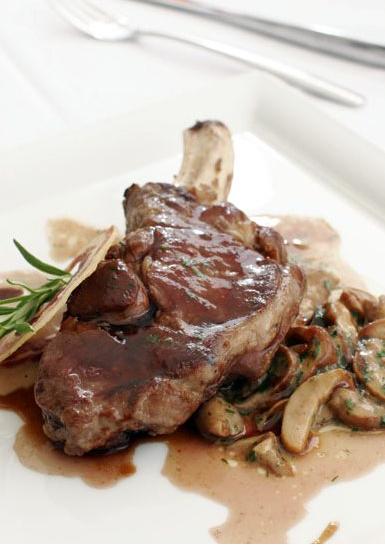 Recipe is for Four People, and is Soooooo Easy !! Save 75% off restaurant prices...and have a treat !

Ingredients: , 4 x Veal Chops, 250g of Porcini Mushroom Stuffing, (both items avaliable from our shop), 2 x Heads of Garlic .

METHOD:
Chop the head off the head of garlic, but don't chop too much off, just enough so that the oilve oil can penetrate and coat the individual cloves. Pour some olive oil over the garlic heads, place in a medium oven for about an hour, until the garlic is soft and browned. Keep warm until ready for serving.

Sear or brown the veal chops in a hot pan with some oil in, then either turn down the heat on the pan and cook for about three to four minutes a side on a medium heat, or place in a medium to hot oven (170 to 190degC ) for about 10 minutes or until the veal chop is still pink in the middle.

Warm up the Porcini Mushroom Stuffing and serve either alongside the Veal Chop, or dollop it on top of the chop...you don't need much as it is rich in itself.

Place a few cloves of unopened roasted garlic on each plate, serve with the chop and the mushroom stuffing, sprinkle with parsley for effect. !!!

Yes, it's that easy !! And the cost in a restaurant would be around $35.00 per serving, so that's $140 per meal for four people.
BUYING FROM US, YOU WILL PAY AROUND $9 PER HEAD, A SAVING OF 75% !!! AND IT WILL BE JUST AS GOOD...SO TREAT YOURSELVES.....

OPTIONS: Serve the veal chop with a lemon, anchovy and caper mayonnaise. Or rub the chop with lemon rind, thyme, chilli flakes, black pepper and salt before frying. Or make a simple tomato sauce with a tin of tomatoes, onions, mushrooms, garlic, herbs such as thyme, rosemary, bay leaf, parsley, and white wine.

SERVE WITH: Somthing green comes to mind, such as Broccoli, Peas, Broad Beans, or a Green Salad. Mashed potato would be good, as would a Mushroom Risotto ( you could throw the mushroom stuffing in that instead, along with normal mushrooms ). Or if you are feeling sophisticated, maybe some oven roasted Red Capsicums (done alongside the garlic in the oven ), or oven roasted Jersulam Artichokes.

DRINK WITH: A full bodied red wine such as a shiraz or cab sav..!!!