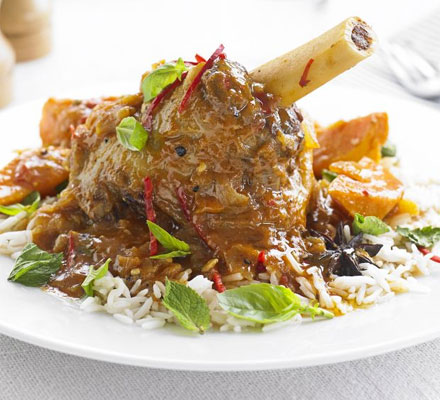 INGREDIENTS:- 8 small lamb shanks or 4 large ones, 2 small onions finely sliced, 2 stalks lemon grass finely chopped, 3 cloves chopped garlic, 2 to 3 star anise, two desert spoons fresh ginger grated, 2 big spoons of tomato puree, 2 red chillis (one finely chopped, other in fine strips), a big handfulof mixed, torn, Thai Basil, Mint and Coriander leaf, one desert spoon brown sugar, 1/4 cup fish sauce, juice of 2 limes, 750g of big chunks of Sweet Potato, Lamb or Beef stock .
METHOD:- flour, and brown shanks in a little oil. Transfer to oven dish. Fry onion, ginger, garlic and finely chopped chlli for a few minutes to soften. Add half the sugar, star anise, lemon grass, tomato puree, stock. Bring to the boil and season. Add to the lamb shanks, cover and cook in slow (130 to 140degC) oven for 1 1/2 hours. Add sweet potato and cook for further one hour at 120degC.
Remove from oven, refresh with the lime juice, fish sauce, remaining sugar, thinly sliced red chilli, throw over the herbs and serve. ( You can always remove the liquid and boil down in a pan if it is too liquidy and not thick enough for you).