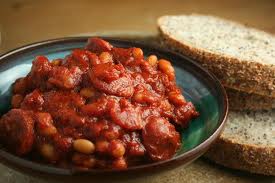 INGREDIENTS, for four:- 3 chorizo sausages, 4 cloves chopped garlic, 2 big spoons of sobrassada (available here), tomato puree, 500ml chicken stock, one medium onion finely chopped, 2 tins of WhiteNaval Beans or Borlotti Beans, lots of chopped parsley.

METHOD:- Fry Sobrassada paste in a pan with the onion and garlic for 4 to 5 minutes, add chopped chorizo sausage, fry quickly for a minute or so, add beans, stock and bring to boil, then let simmer. Season to taste. Allow liquid to reduce until you have a stew type consistency. Sprinkle on parsley and serve. Serve with a green salad or a tomato salad. Red wine.

This dish is full of Spanish flavours. The Sobrassada paste is widely used in Mallorca as a spread on toast, or as a base for lots of different sauces. It has a flavour similar to chorizo. Use it also in the base sauce for a Paella.

OPTIONS:-Throw in some pork, speck or ham hock, and maybe some white wine. Tomato paste as well....