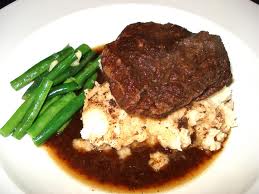 INGREDIENTS, for six:- A 1kg bag of trimmed beef cheeks, 10 juniper berries (crushed), 2 cloves (crushed), 10 bay leaves (crushed), 500ml chicken or beef stock, 100ml red wine, 50ml of balsamic vinegar, 1 x tbsp tomato paste, 1 x chopped large onion, 2 x chopped carrots, 1 x stick chopped celery, 3 x cloves chopped garlic, two big sprigs of rosemary, 2 x star anise, orange rind (optional) salt, pepper and chopped parsley to garnish.

PREPARATION TIME: Marinade for 6 to 24 hours. Half an hour prep and 4 hours cooking time.

METHOD:- Make a marinade for the beef cheeks out of the chopped garlic, onion, carrot, celery, red wine, balsamic vinegar, orange rind and the crushed herbs (best crushed together in a pestle and mortar). Spike the beef cheeks to allow marinade to penetrate and chop them up into quarters. Place in the marinade in a roasting dish and leave covered at room temperature for six hours, or in the fridge for 12 to 24 hours.

Add the stock and tomato paste to the pot.

Cover and cook in a slow oven for around 4 hours. Some cheeks may take more than that as some are naturally tougher than others and you cannot tell which are which until you cook them. Let the liquid reduce by taking the lid off for the final hour or so.

The cheeks are ready when they are falling apart. If there is too much liquid then remove the cheeks and boil down to reduce to the desired consistency.

Remove the excess large bits of herbs and spices before serving.

SERVE WITH:- Mashed potatoes, polenta, pasta or rice. Oh and don't forget a big glass of Shiraz too...

OPTIONS:-. Throw in more vegetables for the last hour or so...maybe whole baby carrots, turnips, parsnips or lumps of potato...