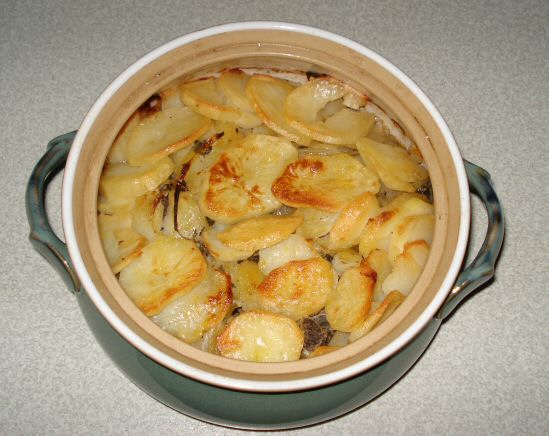 INGREDIENTS, for six:- 750g Wagyu Beef Mince, one large onion chopped, one large carrot, chopped, two cloves of minced garlic, 700g of thickly sliced potatoes, one tablespoon of tomato paste, big dash of Worcetershire sauce, desertspoon of Dijon Mustard, salt and pepper to taste. 60g of Butter to garnish.

PREPARATION TIME: Five Minutes to Prepare, and 60 minutes in a medium oven.

METHOD:- Slice the potatoes and blanch in boiling water for 3 to 4 minutes. Remove from water and set aside. Put some oil in the pan and brown the wagyu mince, taking care to break it up and avoid big lumps. Cook for around five minutes until brown and evenly minced, then remove from pan. Put the onion, garlic and carrot in the pan and fry gently until softened, for around five minutes. Add the tomato paste, Worcestershire Sauce, mustard and seasoning and mix everything together with the beef mince to create an even mix. Place this mix into an oiled oven dish and place the sliced potatoes on top in a layer. Pop the butter on top of the potatoes in lumps in various places. Place, uncovered, in a medium to hot oven (say 180degC) for about an hour. May be kept warm for a while before serving. If the potatoes are not browned then up the temperature for the last 20 minutes.

SERVE WITH:- Absolutey nothing....or if you must, then maybe some more veggies...perhaps some peas or beans for a bit of green colour...But don't forget that glass of red to accompany....probably a Merlot..

OPTIONS:-. Throw more vegetables into the mix, maybe some parsnips or some beetroot...