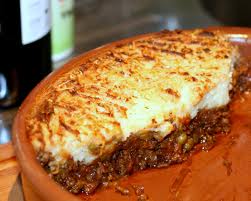 INGREDIENTS, :- Left over lamb, mashed potato and ratatouille from the day before (see recipe above).

PREPARATION TIME: Ten Minutes to Prepare, and 30 minutes in a hot oven.

METHOD:- Carefully chop up all the bits of lamb you can find into small pieces ( you may have more or less depending on how much is left over, so just use more ratatouille or less mashed potaoes to compensate, or add some cooked, chopped bacon or sausage if you are nearly out of lamb ). Combine in a pan with the leftover ratatouille and place in an oiled baking dish. Gently spread over the mashed potatoes and rake lines over the top with a fork to form crests. Bake in a hot oven for 30 minutes, or until crispy brown on top.