10 min prep and 2 hours cooking, feeds 6 people. NOTE, be generous with the amounts so that you can make the second recipe below the next day.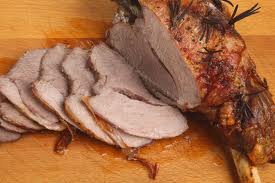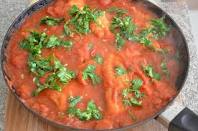 INGREDIENTS:- 1 large leg of lamb, skin ON, rosemary & garlic cloves chopped roughly.
For the ratatouille, 1 can of diced tomatoes, one diced red capsicum, one large onion chopped,
a tablespoon each of dried raisins or sultanas/raisins and capers. Beef or chicken stock say 500ml, a cup of red wine, 2 bay leaves, chopped rosemary and parsley, salt and pepper.
Mashed potato: 6 large potatoes, peeled. Two big knobs of butter, two or three desert spoons full cream and half cup of full milk. Ground nutmeg, salt and pepper to taste.

METHOD:- FOR THE LAMB With a small, sharp knife, make small incisions (about ten) in the lamb leg and insert the chopped garlic and rosemary sprigs. Place in a hot roasting tray and preheat the oven to 180degC. Heat some vegetable oil in a saucepan and when smoky hot pour over the lamb leg. Then season with salt and pepper and place in hot 180degC oven for 20 minutes before reducing the temperature to 150degC for a further 80 minutes. Do not use the fan assisted part of your oven.

METHOD FOR THE RATATOUILLE: Strictly speaking this is not really Ratatoullie, but more of a Spanish take on it, as it has no soggy Zuccinis or Egg Plant slices as they become too soft and yucky when cooked for ages. This recipe is much cleaner, easy to make and much, much tastier..so try it and see...it also keeps for days on the kitchen top and may be used for other things such as pizza topping (instead of tomato sauce), put into burgers for flavour, or used as the base for Shepherd's Pie the next day (see below). It is great eaten on its own with bread for lunch as well.

So, gently fry the chopped onion, garlic and red capsicums for about ten minutes in some oilive oil and then add the herbs, fry for one minute, add the other ingredients and bring to the boil. Turn heat right down and simmer for an hour or so. Put more or less stock in to get the right consistency. Check for seasoning...if bland put in some stock powder or a little soya sauce or Worcestershire sauce. The end result should be thick and full of flavour. Reduce, stirring,over a high heat if necessary.

May be made a day in advance, and will actually improve.

METHOD FOR THE MASHED POTATOES:-
Peel the spuds, leave in three inch lumps and add to salted boiling water to be cooked for twenty minutes or so until just soft. DO NOT OVERCOOK or the mashed potato will be too watery. Use a good floury potato that is high in starch such as Coliban or King Edward. Ask your greengocer as the cooked difference is marked.
When cooked, drain properly, return to pan, add butter, cream and half the milk, nutmeg, salt and pepper, and mash thoroughly with a proper masher until fluffy and creamy. For best results push through a sieve. The mashed potato must be creamy so do not stinge on the butter and cream...just eat less of it afterwards if the calories and/or cholesterol are worriesome. There's no point in doing half a job and those without such worries will be very grateful indeed....

WHY LIKE THIS ??- Red capsicums, rosemary and tomatoes make a perfect combo for lamb. The capers and the sultanas bring a sweet sour element to the dish which makes the palate work overtime, sending mesages to the brain about wanting some more please !!! It is also my firm belief that when the lamb is as good as ours, you must leave it alone during the cooking process, and not cover it with jam or mint, or anything much at all. If you want to make something fancy then do so with the vegetables, as in the Ratatouille above...these will help complement the lamb and set it off beautifully.

This recipe is perfect for dinner parties, as it is quick, easy and guaranteed to impress.

SERVE WITH: A full bodied red wine, such as a Cab sav, a Merlot or Shiraz.