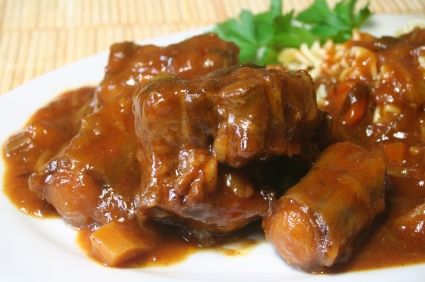 8 pieces of oxtail
red wine ( a good glass )
beef or chicken stock
1 large onion (diced), 2 large carrots (sliced), 1 stick of celery (finely chopped)
1 can of baked beans
1 can of diced tomatoes

METHOD: lightly flour the oxtails and brown in a pan with olive oil and butter, rmeove to oven dish or slow cooker. Cook the root vegetables ( I also use parsnip or swedes to flavour the stew) in the same pan for five minutes and transfer to same oven dish.
Add stock to pan ( I also use Bovril or Vegemite to liven it up ), deglaze the pan and warm up, add a dash of Worcestershire sauce, and add to oven dish so the meat and veg are nearly covered. Add the baked beans and the can of tomatoes.
Cook SLOWLY at 120degC for four or five hours....or until the meat fallss away from the bones and the liquid is sticky !! The slower you cook it, the more chance you have of the collagen and marrow in the oxtail converting to gelatin to give you that mouth sticking goodness and depth of flavour.... too quick a cook and the oxtail will be tough and stringy with the collagen unconverted to gelatin....also the slower you cook, the less traumatised are the meat fibres and the softer they remain...

If there is excess liquid after cooking, then drain it off and reduce it in a frying pan, skimming off any impurities, until you have the depth of flavour you are looking for. Put it back in the pot and serve with mashed potatoes, or couscous, or even polenta.....

It may be made a day or two in advance and benefits from sitting for a day. However, when you come to warm it up, make sure that you do not boil the meat too much or it will toughen up again...
And VOILA as the French say.......... one of my favourite dishes of all time...and all for around $12.........