Toad in the Hole
That's Yorkshire Puddings with Sausages and Gravy to the unenlightened.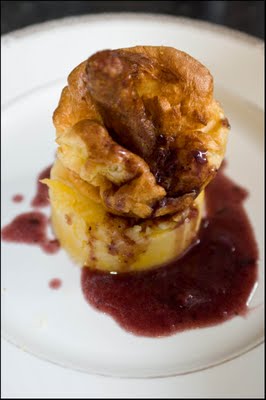 A classic dish that EVERYONE loves, and is very economical to make...
approximate cost for 4 people is $10.00

Being a Yorkshireman, I have been making this dish since my early teens, as it never failed to impress, and as a student I could make it for very little money.....another important consideration for a Yorkshireman...

Preparation Time: 20mins
Cooking Time: 30mins for the Gravy, 15-20 mins for the Yorkshire Puds

INGREDIENTS
For the Yorkshire Puddings - -For EACH person allow:-
1egg
2 heaped desertspoons of sifted plain flour
Milk and water 50/50 mix
Pinch of Salt

For the Thick Onion Gravy: 5 medium onions, cornflour, milk, stock, (Bovril if you have it).
Sausages: any decent Pork or Beef sausage, providing they are low fat. I find our Cumberland or Irish sausages work the best.

Method:-
FOR THE THICK ONION GRAVY

Slice about 5 medium onions and fry them slowly in vegetable oil until caramelised, which will take about half an hour. A teaspoonful or so of sugar will help the caramelisation (browning) process. The onions are done when they have reduced in size by about 70%, are golden to dark brown and almost coagulated in the pan. If the heat is too high then they will burn and taste as such, so be careful to put them on a minimum heat and keep moving them around every few minutes. The sweet onions you have left are gold !! I often cook loads more than I need and keep them in the fridge for other recipes ( such as French Onion Soup, or Onion and Bacon Tart ). Now you add your stock (any stock will do, beef or chicken, packet or tin, home made or not ), until you have enough gravy for your guests. It will probably need thickening, which I do with a spoonful of cornflour beaten into some of the milk and water mix used for the puds. Once you have the consistency you like, season it and it is ready. For best results I always put a big dollop of Bovril into the gravy...but you could use Worcestershire Sauce or even Vegemite .... for extra flavour. Wine is not necessary, neither are mixed herbs, although you could add them if you wish...it's your gravy after all.

FOR THE YORKSHIRE PUDS
Beat the eggs, flour and salt together until almost too thick to beat, which may mean more or less flour depending on the size of the eggs.
Mix 50/50 normal milk and water together, and add to egg mixture, beating all the time until you have a consistency of double cream. Set aside for half an hour, or better still for an hour. Just before cooking, if the mixture has stiffened up then add a little more water until you have the double cream consistency again. If you are using fat free milk then use just milk no water.
For best results use a multi cup cake baking tray, or if you don't have one then you can use any metal oven tray with sides, only you will end up with much larger Yorkshire Puds. Make sure the cavities are greased or oiled so that the puds do not stick. Place the baking tray in a hot oven until it is very hot.
Heat up a good quantity of vegetable oil in a pan until smoking, and then pour about half an inch of hot oil into each hot cavity or tray. Immediately pour in enough batter mix to come halfway up the depth of the cup cake cavity or about 3/4 of an inch (20mm) in the oven tray. Transfer trays back to a hot oven immediately ( min, 200degC ). Three or four puds per person is ample.
Now leave them ALONE and resist the temptation to see if they are rising. They will take 15 to 20 minutes to cook and should be nice and crispy....
In the meantime, fry your sausages separately in a pan until done.
Once brown and crispy, take the Yorkshire Puds out of the oven and transfer to a serving bowl.
Pop your gravy in a serving pot, the sausages in another, and let everyone tuck in. The cup cake style puds will have a perfect cavity into which to pour the thick onion gravy.
The mix of soft and crispy, combined with the thick onion gravy and decent sausages is a mix made in Heaven.....and taught to me by my Mother, whose Yorkshire Puds are a legend around the globe..........literally...

TIPS: The gravy makes this dish, as do Crisp Yorkshire Puds, which need HOT OIL and a HOT OVEN and a preheated HOT TRAY... A batter mix that is too stiff will not rise properly and will be stodgy.The onions need a very low heat for at least half an hour....
Did You Know ?? that in Yorkshire, the Yorkshire Puddings are normally eaten on their own with gravy as a first course...probably because nobody could afford the meat you were supposed to be eating for the next course, and it was a good way to fill people up..........