FAMILY MEAT LOAF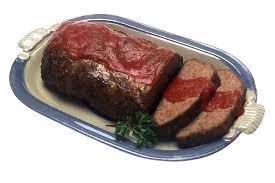 750g Minced Beef
175g Brookvale Pork Sausage Meat
1 beaten Egg
1 medium Onion - finely chopped
1 clove Garlic - crushed
1 tblsp Sage Leaves - chopped
1 tblsp Mustard - Dijon or Hot English to taste
1 tblsp Tomato Paste
110g fresh White Breadcrumbs
1/2 tsp Paprika
Salt and Pepper

Prep time: 30 mins Cook time: 1-2 hrs
Difficulty: Easy Cost: Cheap

Method:
Heat oven to 180C/350F.
Place all the ingredients in a large mixing bowl and mix thoroughly (hands are best!)
Transfer the mixture to a 2lb/900g loaf tin and pat down to level the surface. Cover with a piece of oiled greaseproof paper.
Bake for 1hr 30 mins, or until cooked through. Test with a skewer or sharp knife - the juices should run clear. Remove the paper 15 mins before the end of cooking. Let the meat loaf stand for 15 mins before serving, or chill and serve cold.
Serve with a tomato sauce or ketchup and potatoes baked in the oven at the same time.