BASIC RECIPE FOR A BOLOGNAISE SAUCE, LASAGNE AND COTTAGE PIE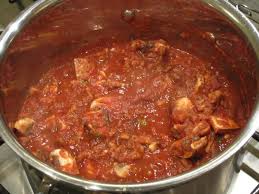 1 kilo Premium Beef Mince
1 tblsp Oil
2 Onions - chopped
2 sticks Celery - chopped
50g plain flour
250g red wine
300g beef stock (can be bought from Brookvale)
1 tsp Bovril or Vegemite
2 tbls Worcestershire Sauce
2 tbls Muscovado or Brown Sugar
1 tbls fresh thyme
250g Chestnut Mushrooms
Salt and Pepper to taste

Prep time: 30 mins Cook time: 45 - 60 mins
Difficulty: Easy Cost: Cheap

Method: Heat the oil in a hot frying pan and add the beef mince. Stir over a high heat until golden brown. Use a slotted spoon to remove the mince to a plate, add the onions and celery to the pan and fry until beginning to soften. Return beef to the pan. Whisk the flour and wine together in a bowl to make a smooth paste, then add it to the meat mixture with the Worcestershire sauce, sugar and thyme. Bring to the boil, stirring, until thickened, then add the mushrooms and Bovril or Vegemite. Season with salt and pepper to taste, then cover and simmer for 45 - 60 mins until the meat is tender and you have a lovely thick sauce.

This is a great basic for all kinds of easy meals, and it is worth making in large quantities for the freezer.