WHOLE POACHED SALMON WITH HOMEMADE MAYONNAISE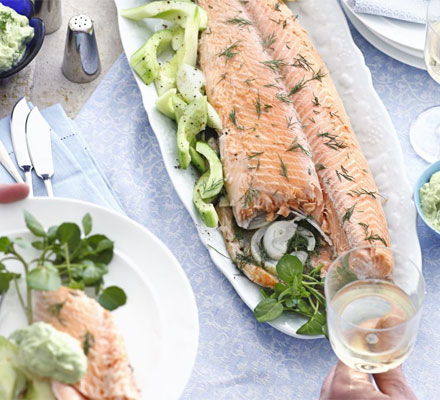 I know we don't sell fish at Brookvale, but ideas for Christmas really should include a Poached Salmon. I have been poaching salmon this way for years, with great success. I had a butcher in the UK donkeys' years ago who loaned me a fish kettle and taught me to cook salmon this way - he was a keen fisherman, not a fishmonger!
A fish kettle with a removable rack is ideal, but if you can't get hold of one then a deep, heavy roasting tin will do. Try to find a fish to fit, if possible, but you can chop off the tail fin and head if necessary, although leaving the head on will keep everything more moist.
If you are using a fish kettle, lay the fish on the rack and cover with cold water. Add a small handful of salt and some peppercorns, a few slices of lemon and a couple of bay leaves. Cover and bring very slowly to the boil - just to the boil, not a rolling boil - then take off the heat and leave to cool in the liquid.
I you haven't got a fish kettle, lay the salmon on a wide piece of aluminium foil in a deep roasting pan. This is so you will be able to remove it later. Cover with the water and aromatics, as above, and seal with aluminium foil. Again, bring very gently to the boil, remove from the heat and allow to cool.
I like to serve cold salmon with new potatoes and a cucumber salad, and always with some mayo. Here is my recipe for Mayo:
Stand a bowl on a towel, so that is doesn't move about, then put in 2 egg yolks, 1 teasp Dijon mustard, salt and pepper to taste, and whisk peanut (or any neutrally flavoured oil) in slowly until you have started the emulsification process. You can then pour the oil in faster, beating well between additions, until you have a rich thick mayo. I like to put a glug of balsamic vinegar and a glug of fish sauce (yes, fish sauce), plus some lemon juice to taste. Fresh tarragon or dill is a good addition to the mayo, but that is up to you. Just keep tasting until you like the result. I always use peanut oil rather than olive oil, as it gives a nicer texture.