WHOLE ROASTED BEEF EYE FILLET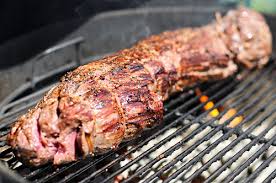 Another idea for parties or family gatherings during the holidays is a whole eye fillet, roasted briefly then cooled to room temperature and served with a mustard and mint mayo.
Set the oven to 220C. Rub the eye fillet all over with oil and then crushed black peppercorns. Heat a glug of oil in a roasting tin and sear the beef all over, then transfer to the hot oven for 10 mins. Then allow to cool to room temperature.
In a food processor blend 1 tblsp grain mustard, the juice of half a lemon, a handful of mint, 2 egg yolks, salt and pepper and 4/5 tblsp olive or peanut oil to make a creamy dressing.
Slice the beef and spoon over the dressing. Serve with a peppery rocket salad for an easy supper dish or an addition to a buffet for a party.