ROAST LOIN OF PORK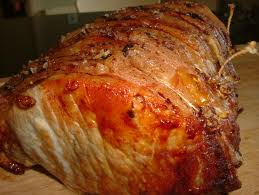 Allow 100-175g of raw meat per person for boneless joints and 225 - 350g for bone-in.

Heat the oven to 180C.

Dry the rind, and score it with a very sharp knife if our butchers haven't done it for you. Try and cut through the outer rind and into the fat, but not into the flesh. Rub with oil and salt and place on a rack in a roasting tin and open roast in the pre-heated oven for the following times: -
Medium - 30 mins per 500g, plus 30 mins more.
Well done - 35 mins per 500g, plus 35 mins more.

If the crackling hasn't reached the gorgeous, crispy bubbly state we all love, take a very sharp knife and run it under the skin, between the meat and the rind. Turn the oven up to 220C and put the separated skin on a baking sheet in the hot oven. Watch it like a hawk, as it can scorch very easily, but it should bubble up and become crisp.