MOROCCAN LAMB WITH APRICOTS AND HONEY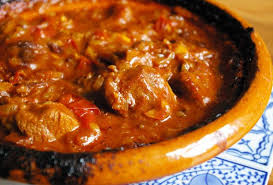 INGREDIENTS: SERVES: 4
8 Forequarter Lamb Chops
1/4 cup plain Flour
2 tblsps Olive Oil
1 large Onion - chopped
2 cloves Garlic - crushed
2 tsps ground Coriander
2 tsps ground Cumin
1/2 tsp ground Ginger
1 long Red Chilli - thinly sliced
400g can crushed Tomatoes
3/4 cup dried Apricots - chopped
2 tblsps Honey
2 small Zucchini - thickly sliced
1 cup chopped fresh Coriander leaves
Couscous and Yoghurt to serve

PREP TIME: 20 mins COOK TIME: 2 hours total
DEGREE OF DIFFICULTY: Medium

METHOD:
Preheat oven to 160C/140Fan. Place flour in a zip-lock bag along with the chops; seal and shake to coat. Heat half the oil in a large heavy-based flameproof casserole over a high heat. Cook lamb, in batches, for 2 to 3 minutes each side until browned. Transfer to a plate.
Reduce heat to medium and add remaining oil. Soften the onion, along with the garlic, coriander, cumin, ginger and chilli for 2 to 3 minutes. Return the lamb chops to the pan, along with any juices, and add the tomato, apricots, honey and 2 cups cold water. Cover and bring to the boil. Transfer to the oven and bake for 1hr 15mins. Remove from the oven and skim off any fat. Add the zucchini and return the casserole to the oven, uncovered, for another 30 minutes until the lamb is tender. Stir in half of the coriander.
While the lamb is baking, steam the couscous according to the instructions on the packet. You may flavour it with stock or anything else if you wish. As a rule of thumb you need equal amounts of liquid and couscous. Fluff up with a fork just before serving, and add the remaining coriander.
Serve the lamb over the couscous with yoghurt on the side.

OPTIONS: This could be served with rice, but couscous is more authentically Moroccan

DRINK WITH: Mint tea would be very Moroccan, but I would much prefer a good red wine!!