CHICKEN WITH A BLEU D'AUVERGNE SAUCE
aka: Chicken in a Mild Blue Cheese Sauce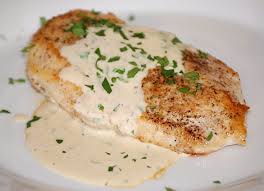 1 Size 10 Chicken, jointed
2 tblsp olive oil
30g butter
1 tblsp chopped fresh Thyme Leaves
1 glass decent White Wine
2 cloves Garlic - crushed
150g Bleu d'Auvergne or other mild blue cheese such as Gorgonzola
200ml Double Cream
Salt and Pepper
Prep time

: 15 minutes Cook time: 1 hour
Degree of difficulty: Easy Cost: Medium
Method:
Heat oven to 180C/Gas 5. Dry chicken pieces and season with salt and pepper. In an ovenproof frying pan, heat oil and butter until frothy, then put in the chicken pieces and brown lightly all over. Add garlic, thyme and wine to the pan and transfer, uncovered, to the oven. After half an hour, baste the chicken with any juices and test for doneness with a sharp knife. Unless the chicken pieces are very small, you will probably need to put the pan back in the oven for another half hour. When the chicken is done, remove the pan and pour off the excess oil. Crumble the blue cheese into the pan and pour over the cream. Mix together gently to combine with the pan juices and return to the oven until the cheese is melted into the cream and the sauce is syrupy - about 10 minutes.
Serve with

: Crushed potatoes or noodles, and your choice of salad
Options:

This could be done with a butterflied chicken, just crisp the skin first, then turn skin-side up before adding the garlic, herbs and wine.
Drink with:

Pinot Gris or Sauvignon Blanc
If you are going to make this with a different blue cheese, don't use a Roquefort or a Danish Blue, as they would completely overpower the dish. There are some fabulous soft blue cheeses from King Island or an Italian Gorgonzola which would be perfect.