NONNA'S FAVOURITE ROAST CHICKEN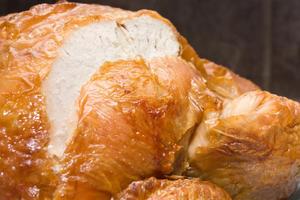 Ingredients: 4 to 5 People
1 whole chicken 1.6kg standard
1 lemon
Small handful fresh sage
Small handful fresh thyme
4 cloves garlic - skin on
60g butter (any type)
salt and pepper to taste
Prep time

: 10 Prep Time Cook time :hr 15 mins
Cost: Cheap
Heat oven to 220C/Gas 7. Dry the chicken inside and out with kitchen paper. Put in a roasting tin and rub all over with half the butter, massaging it in well. Squeeze the lemon over the skin and tuck the squeezed fruit into the cavity of the chicken, along with the herbs and the garlic cloves, cut in half, and the rest of the butter. Season with salt and pepper and put into the hot oven for 20 minutes, then turn the heat down to 180C/Gas 5 for 45-50 minutes. Test for doneness by piercing between the breast and thigh - the juices should run clear. Allow to rest for 10 minutes before carving. While the bird is resting, pour off excess fat from the roasting tin and scrape any sticky goodness into the juices to serve over the carved meat.
Serve with: A mixture of your favourite potatoes and vegies, roasted together at the same time with olive oil, herbs and seasoning.
Options/tips: This can be made with a butterflied chicken, just cook it for about 45 minutes. My eldest grandson cooks chicken this way, but he pushes garlic butter under the skin as well, it is seriously good!
Drink with: A fruity Chardonnay