MID-WEEK BALANCED MEAL IN UNDER 20 MINUTES...TASTY CHICKEN WRAPS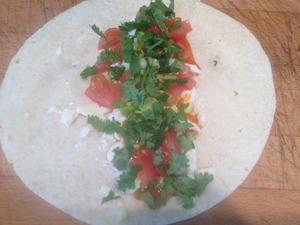 FOR 4 TO 6 PEOPLE
Ingredients:

1kg of Chicken Stir Fry Strips, 2x 10inch Corn Tortillas per person, one can of drained Chick Peas, one Large, Soft Avocado, half a finely chopped Spanish Onion, two Whole Tomatoes chopped, 200g of grated Parmsan or Tasty Cheese, chopped Parsley or Coriander, juice of a Lemon. Your favourite sauce to garnish...could be Chilli, Hot Tomato, Hoisin, Soy, Sweet Chilli, a pickle of some kind....
METHOD: this meal is all about preparation, and also about using what you haven't yet used in the fridge before it goes off.

Think about what sauce you wish to use on the chicken strips and get it out of the cupboard.
In a large frying pan, throw in some oil and heat it up to hot before throwing in the chicken strips (you may have to do it in batches). When the chicken is on the go, add a good amount of the sauce you are using to flavour the meat. I like a mixture of Sweet Chilli Sauce and Lemon Juice and maybe a little extra Chilli for good measure.

Meanwhile prepare the other ingredients. Take the avocado flesh from the shell, season it well with salt and pepper and lemon juice to stop it from browning, then flatten it roughly into a sort of spread by using a fork.
Chop up the onion and tomato and mix together and place in a bowl.
Grate the cheese and put it in a bowl.
Take the drained chick peas and put them on a plate. With a fork break them up and crush them into a very rough spread. At this point season them a little and also add some chopped parsley or coriander and some lemon juice.

Remove your wraps from the packet and warm them in the microwave for a minute just before serving.

When the chicken is done (should not be more than seven or eight minutes), check it for seasoning and taste and adjust where necessary.

Tell the gang that dinner's ready and have the mixer bowls laid out on the kitchen top in their order of use...first the wrap, then avocado paste on the bottom of the wrap, then the chick peas, then the tomato and onion mix, then the chicken and finally the cheese with a sprinkle of parsley or coriander on top. At this stage I may also add either some sour cream, or maybe some more of the sauce I used to fry the chicken with.

If your gang is old enough, then let each person build his or her own wrap. It's fun and they will like it more if they've actually built it and been allowed to finish it off as they wish.

This is a really healthy, balanced meal..quick to prepare, easy to eat, economical and will become a firm family favourite, providing you build the wraps with ingredients that your own family like.

Options are: beef strips or mince. Chopped fennel, grated carrot, red kidney beans, roasted pumpkin, shallots, blue cheese dressing, whitloaf, finely chopped capsicums or chillis....whatever you feel is worthwhile.

And to Drink: Something light, such as a cold Beer or a glass of non-oaked Chardonnay.