SPANISH MEATBALLS WITH BEEF & CHORIZO - Serves 4-6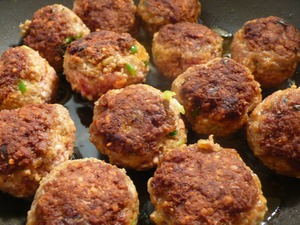 Ingredients: 450g minced beef, 250g semi cured BBQ Chorizo from the shop, minced or finely chopped, 3 tblsp olive oil, 1 onion, finely chopped, 2 cloves garlic, crushed and chopped, 1 egg, 2 tblsp milk, 50g fresh breadcrumbs, 50g cheddar cheese or similar, grated, 3 tblsps coriander, chopped, 1/2 tsp chilli powder, 2 tsps ground cumin, 1 tsp dried oregano, salt and pepper to taste.

Method: Heat the oven to 230/450F/ Gas 8. Grease a baking sheet with 1 tsp of the oil. Heat the remaining oil in a frying pan and cook the onion and garlic on a medium heat for 3-4 minutes until the onion is transparent.
Beat the egg and milk together in a bowl, add the breadcrumbs, cheese, coriander, chilli, cumin and oregano and mix. Add onion, beef and chorizo, plus salt to taste into the bowl and mix thoroughly - hands are best for this.
Form the mixture into golf-ball size patties and arrange them on the baking sheet. Rest for 1 hour if possible, before then cooking for 12-15 minutes in the oven until cooked through.

These meatballs are good with a tomato/pasta sauce over your favourite pasta and/or with a salad. You could freeze them before cooking, to give you an easy meal at a later date.