Slow-cooked Shoulder of lamb, with Boulangere Potatoes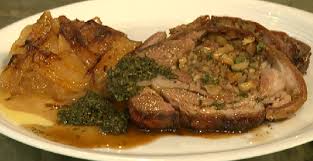 Here is the recipe for those weekends when you have family or friends coming and don't want to spend hours slaving in the kitchen. It is a one-pot dish, and it looks after itself whilst you are relaxing with your friends. All it needs is a salad or a quick green vegetable, cooked at the last minute (spinach would be perfect)
Prep. Time

: 30mins

Cook time

: 4-5hours

Serves

: 4-6
Ingredients

: 1 whole lamb shoulder from Brookvale, 3 sliced onions, 6 large waxy potatoes sliced, finely shopped leaves from 1 small bunch thyme leaves, l whole head garlic, 4 cloves separated, 500ml chicken stock, salt and pepper.
Method:

Pre Set oven to 130C/275F/Gas1
Mix together the onion slices, potato slices, thyme leaves, salt and pepper gently in a bowl, then layer them in a greased roasting pan. Place lamb on top. Cut incisions into the lamb and push garlic cloves right down into the meat (this way they wont burn), pour
the stock over everything and cook, uncovered for 4-5 hours. Allow to rest 20 mins while you do the vegetables.