TRADITIONAL BEEF RIB ROAST WITH ROAST POTATOES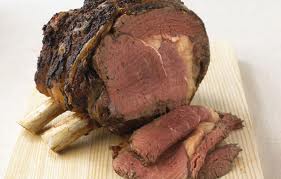 ROASTED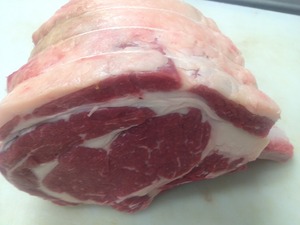 BOUGHT THUS
1x 3 Rib of Beef, a potato each for roasting. (Much skin and fat left on), we have some ready to go in the shop for only $18.99/kg). This rib incorporates the Scotch Fillet.
Heat the oven to 240C/Gas 9, or as hot as you can get it.
Put the beef in a roasting tin and rub the surface with salt; some people like to rub it with dried mustard and flour or black pepper, but I think salt is sufficient. Please don't be tempted to cut any fat off before cooking, even if you don't want it on your plate later, it is essential for the flavour and succulence of the meat. We leave it on purpose to lend flavour and to keep the meat really juicy. You can cut fat and skin off at the end if you wish. We just leave it on the plate for the eater to discard or consume.
Put the beef in the hot oven for 20 mins, then turn the temperature down to 180C/160fan/Gas4 for the following times:-
Rare beef

- 90 minutes (15mins per 500g)
Medium beef

- 110 minutes (15mins per 500g + 20mins)
Well done beef

- 140 minutes (15mins per 500g +50mins)

This is also when you introduce the potatoes for roasting, making sure that they are covered in oil, and if you can be bothered, score with a fork to create ridges which crisp up more easily than a smooth surface.

Remove the Beef from the oven when done to your liking and let it r
est for 20/30 minutes, covered lightly with foil.
I have recently bought a meat thermometer and would use it for perfect results.
Med. Rare 145F/63C
Med. 160F/71C
Well Done 170F/77C

And to Drink: A big bold red...Shiraz or Cab Sav...personally I like a Cotes de Rhone.