BEEF CHEEKS IN THE PRESSURE COOKER :-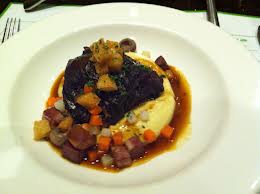 Put some oil in the cooker, brown the cheeks, pour off the oil, then in with the roughly cut veggies and stock (about 250ml worth). Salt and pepper to taste and a bit of thyme if you feel like it. A good glass of red wine would be great too. Yes, that's where Andrew gets it from...wine in food...nearly as good as wine with food.

Get the cooker up to pressure. Your steamer whistle will let you know when that is, then reduce the heat a little so the bottom does not burn and cook for 40-50 mins. Take off the heat and let the steam reduce naturally (about 15 mins). Serve with some mashed potato.

Our second favourite is Oxtail, which is cooked just the same way, with perhaps 5 minutes less cooking time.

If you have a pressure cooker and are unsure about cooking times then I can help. Just reply to this email and I will get an answer to you as soon as I can.

The resultant steam can be reduced naturally, as in the recipe, or by putting the cooker in the sink and running the cold tap over it. The natural method is used for items which do not spoil if cooked a bit longer. The more confident cook can wait until the worst is over, then gently loosen the lid until steam comes out, taking care not to scald yourself, then allow that to calm down, and then do it again until the pressures have equalised.

The cold water pouring method is for poaching things like chicken which would dry out with overcooking. You generally get a trivet with your pressure cooker, which is there to keep the meat from touching the bottom of the pan, so that it cooks in the flavoursome steam. If you don't have a trivet, put a cake tin upside down...this works almost as well.

For a chicken from the shop of around 1.6 kilos if cooked for 18-20 mins with 250ml of chicken stock, then opened using the quick, reduced steam method, you will get a moist breast and some lovely gravy - the skin will not be crispy and brown, but the meat will be delicious, tender and juicy. If you are avoiding fatty skin, this would be great for you.

Leftovers will make a lovely Coronation Chicken, as follows:- just chop the chicken up up and mix with some Mayonnaise, a little Curry Paste and Mango Chutney to taste. This recipe dates back to 1953, when Queen Elizabeth II was crowned, but is well worth resurrecting, as it is a delicious mixture.