BEEF EYE FILLET WITH A ZINGY PEPPER SAUCE:-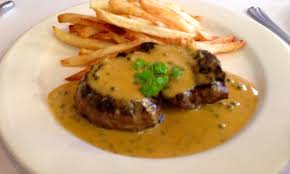 INGREDIENTS: (for 4 to 6 people)-

One Whole Beef Eye Fillet (currently on special at $22.99/kg), sliced into 1inch thick pieces (or even 2 inch if you like your meat rare). Two of the thinner pieces per person, 1 Tbsp of Ground Black Peppercorns, 500ml of Beef or Chicken Stock (or water and a stock cube), 100ml of Double Cream to finish.

PREP TIME: 2 minutes
COOK TIME: 10 minutes

METHOD: This is probably the quickest recipe I have ever suggested , as it's start to finish in ten small minutes !! Make sure the beef has been out of the fridge for half an hour before cooking with it.
Get a frying pan warmed up and add the stock and the freshly ground black pepper (fresh is essential for this dish), bring to the boil and allow to reduce by at least 80%, until it starts to get syropy. Check to see how peppery the sauce is and add more if needs be. Then add the cream and warm through. Check again for pepper. Keep warm until ready for serving.

Meanwhile heat up your thickest frying pan, or ready the Barbie to hot. Spray or paperwipe some oil onto the surface of your pan or Barbie, and when smoky hot, throw on the steaks and press down to make a good contact. Slightly lower the heat now and leave to cook until done to your liking. It is very hard to be precise about times, as this always depends on how thick the steak is and how hot the BBQ or pan is. I like mine very rare and give it a couple of minutes a side only, whereas well done would be at least twice that. You can best tell by the finger test...if it is soft and yielding then it is rare, and the firmer it is the better done is the steak. Or get a meat thermometer, where 55 to 60degC is rare and 70 to 75 is well done....

Let the steaks stand a few minutes before serving. Pour the pepper sauce over the steaks and enjoy.

SERVE WITH: In our house, it would be grounds for divorce if I didn't make hot chips, and these are the go, whether you make them yourself as we do, or buy them on the way home or throw them into an oven pan straight from the deep freeze. Anything else just isn't the same.

AND TO DRINK: A Glass of Full Flavoured Red Wine. There's some decent cheap French Bordeaux around at the moment...that would be perfect, as long as it's at least 5 years old.