MID-WEEK SPECIAL: SAUSAGE BAKE WITH TOMATOES, CHEESE AND BORLOTTI BEANS:-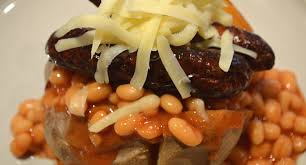 INGREDIENTS: (for 4 to 6 people)-

16 to 20 Beef Chipolata Sausages, 1 can of Diced Tomatoes, 1 can of Borlotti Beans, 300g of grated Cheese, such as Mozarella, Cheddar or Parmesan (or a mix of them), a few mixed herbs, Salt & Pepper.

PREP TIME: 5 minutes
COOK TIME: 30/40 minutes

METHOD: This is another really easy and quick Midweek meal . You can use any sausages you like really, but we love our Thin Beef....? This meal is a balanced meal and has everything you need within it...that's what makes it so easy, and it may well be the shortest recipe I have done yet:-

Put the Oven on Medium, say 170 to 180degC, and find an oven dish that nicely fits your sausages which you place at the bottom of the pre-oiled dish. Drain and then empty the can of Borlotti Beans onto the sausages, then empty the tomatoes over them. At this point I would season with salt and pepper, and anything else you may wish to spice the dish up with, such as Worcestershire Sauce, Chilli, Soy Sauce, a little brown sugar, even BBQ sauce if you want...whatever tickles your fancy as they say. Throw over the grated Cheese and pop in the oven, uncovered for 30 to 40 minutes. If the cheese browns too early then cover for the remaining time.

OPTIONS: Throw in some pasta into the mix for extra carbs...it's winter after all and we need them. Use other gourmet sausages, such as Pork and Fennel, or Hot and Spicy, use different types of Beans or Chick Peas, red Kidney Beans... or that mix of four different types...whatever you prefer.

AND TO DRINK: A Glass of Full Flavoured Red Wine.