Unctuous beef marrow with a sharp green sauce to cut through its richness..best served on toast !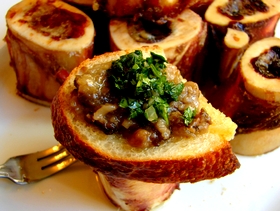 Preparation Time: 5 mins
Cooking Time: 15 mins.

INGREDIENTS for FOUR PEOPLE: Meat: one half a shin bone (maybe a whole one if you are hungry),
For the Salsa: 2 Shallots, One Whole Lemon, One tablespoon of capers, Olive oil, Parsley and Destoned Green Olives (or those ones with anchovies in even better)

METHOD For the Meat

Place the bones on tin foil in an oven tray marrow side up and put in a hot (220degC) oven. Cook for 15 minutes until marrow is soft, but not melted and dripping out of the bones.. Then remove them and place on a warmed plate. Maybe even in a very low, warm oven...

METHOD For the Salsa: finely chop all ingredients and add the squeezed lemon juice and the olive oil. Or give them all a quick wizz in the blender (not for too long as you dont want a paste )

Meanwhile get the toast on, scoop the beef marrow out of the bones onto the toast and put the salsa verde on top, maybe with some extra parsely for colour.


OPTIONS...,the French like their Marrow with a rich red wine sauce..Just soft fry some finely chopped onions, herbs such as parsely, rosemary, thyme and a bay leaf (upto you) and a clove of finely chopped garlic, add 500ml of beef or chicken stock and 500ml of decent red wine and reduce to about a quarter...It needs to be sharp to cut through the richness of the marrow.

SERVING:!!!!

Serve immediately on fresh toast.
I would recommend a sharp white wine to accompany this dish, probably a sav blanc...