OSSO BUCO WITH ITALIAN SAUCE (4 - 6 PEOPLE )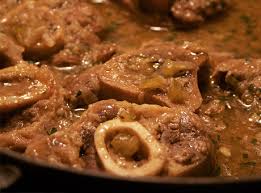 A seriously quick and easy meal for the family. Osso Buco is basically gravy beef with the bone left on...it's the shin bone, and as a meat cu it offers not only a lot of collagen within the meat which converts to gelatine during the slow cooking process, but also contains bone marrow which is considered a valuable source of proteins and amino acids :- something we would not ordinarily consume in our modern Western diets. All around the globe, diverse cultures have prized the bone marrow as valuable for a whole host of remedies, from aiding the development of our brains, to helping reduce cholesterol, and above all for helping with our immune system...Just observe what the pet dog thinks of marrow...or virtually any carnivore animal for that...as far as the dog's concerned it's the best bit...and with good justification.
Meaning "Bone with a Hole in it", Osso Buco should be part of everyone's winter repertoire...it's easy to make, inexpensive, seriously tasty, and really good for you.


PREP TIME:- 15 MINUTES
COOKING TIME: 120 TO 180 minutes.


INGREDIENTS:- (for 4 to 6 people):

6 to 10 large pieces of young Osso Buco Beef or Veal Osso Bucoif you prefer, from a butcher who bones out his own beef. Do not buy carton Osso Buco as it's not fresh , and you lose many of the health benefits. 2 large Onions diced, 2 finely chopped cloves of Garlic, 1 can of diced Tomatoes, 2 large Anchovy fillets, 350ml of decent White Wine, 350ml Beef, Veal or Chicken Stock, 2 sprigs each of Thyme, Rosemary and Sage, 50ml Olive Oil, 75g plain white Flour, Salt & Pepper to taste. And for the tickener paste: 2 x Tbsps of Anchovy Fillets, 2 xTbsps Oilve Oil, 2 x Garlic Cloves chopped, 2 x Tbsps of flat leaf Parsley, chopped, and some breadcrumbs, enough to thicken the paste.


METHOD:
Preheat your oven to a warm 140degC.

Meanwhile, coat the Osso Buco pieces with flour and a little salt, heat 50ml of Olive Oil up to hot in a deep frying pan and brown the meat pieces for a few minutes a side before transferring to a large cooking pot for the oven. After the meat is browned, syphon off a little oil and soften the onions and the garlic in the same pan before transferring them to the meat pot. Throw in the wine, deglaze the pan and reduce the wine to about half the original quantity, before adding the stock, the tomatoes, anchovies and the herbs (tied together as a bouquet garni). Bring it all to the boil, adding salt and pepper to taste, and then cover the meat pieces with the cooking liquor.

Cook, covered, in a slow 140degC oven for about three hours...more if you wish, until the meat is falling away from the bone and the marrow is soft and mushy.

Meanwhile make the Gremoulade / Gremolata, or thickener paste in a mortar and pestle by placing some rock salt in the bottom, adding the anchovies and the garlic and pounding with the pestle until a paste forms, add the Parsley and pound again, before thinning the paste with about 50ml of Olive Oil, and finally mixing in the Breadcrumbs to make a paste of greater substance.

At the end of the cooking process, add the thickener paste, stir it in, and allow it to infuse for a few minutes before serving.

TO SERVE: spoon a meat piece or two into a bowl, and dollop the veggies and stew sauce over the top.

SERVE WITH: Rice or Mashed Potatoes, or just plain old Rustic Farmloaf Bread.

AND TO DRINK ? this dish lends itself to either Red or White Wine, only if you choose White, then make it a dry one, such as Sav Blanc.