ROASTED BUTTERFLIED LEG OF LAMB WITH LENTILS:-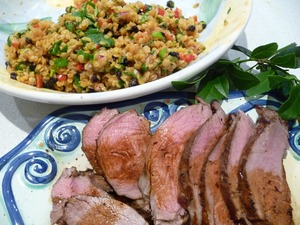 INGREDIENTS: (for 4 to 6 people-

1 x decent sized Butterflied Leg of Lamb from the shop, 1 to 2 cans of Brown Lentils, 1 x Large onion diced small, 2 Cloves of chopped Garlic, 1 x Can of Diced Tomatoes, 300mls of Stock (could be chicken or beef or lamb, and could even be just a stock cube), a glass of Red Wine, Salt, Pepper and a half Tsp of Mixed Herbs.

PREP TIME: 5 minutes
COOK TIME: 30/40 minutes

METHOD: This is another really easy and quick Midweek meal that is tasty and healthy...everyone will love it, even those who claim not to like lentils and chick peas. How could they if they taste so wholesome and are packed with flavour ??


Put the Oven on High, say 200degC, and find a low sided Roasting Tin, cover the bottom with tin foil, and place the Lamb in it...drizzle with Olive oil and Pepper. Place high in the oven and roast for about half an hour for rare or 45 minutes for well done. That's all !!

Meanwhile, make the lentils. Pop some olive oil in the pan, chuck in the onion and then the garlic and fry off for a few minutes to soften and gently brown. Then bung in the Lentils, having drained off half of their liquid (you can keep and cook with the other half). Bring to the boil and add the Stock, can of Tomatoes, the Red Wine and the Mixed Herbs. Bring again to the boil, reduce the heat and allow to cook, stirring from time to time, uncovered, for 15 to 30 minutes, making sure there is still enough liquid in it to not have the rest drying up.

If you feel that there are not enough vegetables in this dish, then add them to the lentils. As with most of my recipes, you should really let your own imagination and tastes dictate what you include in the dish. You could add small diced carrots, or peas, chopped parsnips, beetroot, red or green capsicums, some chile, or some fennel (good at the moment as it's in season).

Remove the lamb from the oven, allow to rest for a few minutes, carve and serve with the lentils.


OPTIONS: The options are ENDLESS with this dish. I have already covered the inclusion of more vegetables in the lentils. But you could also season them with spices...for a Moroccan feel, throw in Cumin, Coriander, Chile Powder, some Cinnamon and Harissa (chile sauce). Or if you prefer Indian, then throw in some Garam Masala, Cumin, Coriander, dried Ginger, a bit of ground Clove and Cinnamon, some chopped Green Chile and even some ground Fenugreek.
You could whisk some Sour Cream into the lentils at the last moment if you are spicing them up.

There are many Root Vegetables in season at the moment, and I would be tempted to add some unpeeled Jerusalem Artichokes to the Lamb, (they only take about 30 minutes to cook, after which you then peel them)..
.

AND TO DRINK: A Glass of Full Flavoured Red Wine.