ALL IN ONE, QUICK, ROAST CHICKEN DINNER FOR 4 TO 6

A seriously quick and easy meal for the family that takes no time at all to prepare and is an absolute winner with kids and adults alike, as we all LOVE a roast. At this time of year, you should be really be thinking about Mid-Week Roasts as you will save yourself a lot of time AND a lot of washing up. This is a win win for the cook AND the eager eater/washer upper.

This really is easy...five minutes preparation, that's all...the rest is cooking time during which you can be doing something else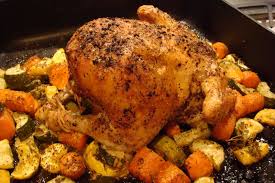 PREP TIME:- 5 MINUTES
COOKING TIME: 40 TO 60 minutes.

INGREDIENTS:- (for 4 to 6 people):

Buy One Chemical Free Size 16 Chicken from the shop, 750g of Roasting Potatoes, (the ones with dirt on are fine), 2 whole medium Onions, 6 Tomatoes, 2 Red Capsicums, ( other vegetables could be small Beetroot, Parsnips, Swede, Turnips, Celeriac, Jerusalem Artichokes) ...Olive Oil, Mixed herbs, Salt and Pepper to taste.

METHOD:
Preheat your oven to a hot 200degC. Meanwhile peel the potatoes, chop into biggish roast sized chunks, put the kettle on to boil some water, and then pop the potatoes in the boiled water in a pan on the stove for about 10 minutes. Remove and place in a big roasting tray, paring them with a fork to create ridges where the oil can lie and crisp them up. This step is important for crispy, roast tats. Meanwhile heat a fair bit of oil in a pan on the stove. You can use Olive Oil or Vegetable Oil, as you wish. Chop the onions in half, but leave the other vegies whole and throw them into the roasting tin with the chicken. Pour over the heated oil, coating everything evenly. Sprinkle everything with salt, pepper and mixed herbs where appropriate.

The high heat will crisp everything up, and in 50 to 60 minutes time it will all be ready. Your veggies will be soft, your Chicken will have crispy skin and the roast potatoes will be all brown and crispy.

Remove your roasting tray from the oven, carve and serve...no gravy needed as the veggies will give liquid and the chicken will be juicy and tender as it is.

If that's not easy, I don't know what is !!

AND: there are often leftovers from any roast, and this will make great lunchbox material for the next day with the vegetables and some bread.

AND TO DRINK ? Whatever you fancy, red or white, or a Mid-Week fancy beer..say a Pale Ale.