PIRI PIRI ROAST CHICKEN WITH ROAST VEGGIES AND CURRIED POTATOES: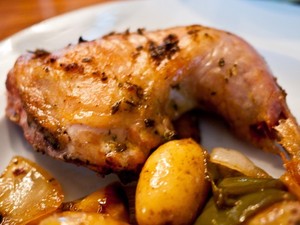 PREP TIME:- 5 MINUTES
COOKING TIME: 40 TO 60 minutes.

INGREDIENTS:- (for 4 to 6 people):

Buy One ready basted, marinated Piri Piri Chicken from the shop, 750g of Small Chat Potatoes, skin on, 3 Tbsps of Mayonnaise, 1 Tbsp of Curry Powder, 2 Tsps Tomato Paste, 3 Medium Onions, 5 Parsnips or other veggies that you may prefer, such as Tomatoes, Swedes, Turnips, Red Capsicums, Beetroot, Celeriac...Olive Oil, Salt and Pepepr to taste.

METHOD:
Preheat your oven to a hot 180 to 200degC. Gently turn out the Chicken onto the big roasting tin/tray for your oven and scrape out any remaining marinade and slap it over the chicken. Chop the onions in half and arrange the other roast veggies next to the chicken..
Drizzle Olive Oil over the veggies, and then sprinkle some salt and pepper over them.
Cook at either 200degC for 40 minutes, or 180degC for 60 minutes. No longer !!!

Boil up some water in a pot, add some salt and throw in the Chat Potatoes without peeling them (the skin is where the goodies are). Boil them for about 10 to 15 minutes until done. Take off the heat and allow to cool in the water until ready for use.

In a bowl, throw in the Mayonnaise, the Curry Powder and the Tomato Paste and mix until well distributed. I sometimes throw in a little lemon juice and some chilli sauce if it's not spicy enough, or even some Garam Masala...whatever takes your fancy.

When the chicken is nearly done, remove the potatoes from the water, allow to dry off and mix with the curried mayo, adding seasoning to your taste.

Remove the chicken and veggies from the oven and serve with the potatoes.

AND TO DRINK ? Well it's Midweek, so whatever you fancy...a beer would be best most likely, or just plain fizzy water with lemon juice.