CLASSIC BEEF RAGOUT: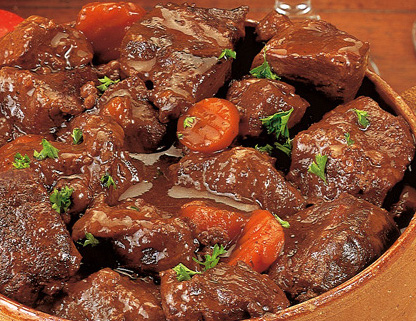 PREP TIME:- 12 MINUTES
COOKING TIME: 120 TO 180 minutes.

INGREDIENTS:- (for 6 people):

Just over 1kg of diced Beef Chuck, 3 Carrots small dice, 1 Celery Stalk small dice, 1 Onion roughly chopped, (any other of your favourite root veggies..parsnip, swede, celeriac, turnip, beetroot...diced small). 1 Medium Onion, peeled and studded with 4 Cloves, 6 Tbsps of Plain Flour, 2 Tbsps of Salted Butter, 750mls of good flavoured Beef or Chicken Stock, 1 big Glass of well flavoured Red Wine.
Freshly chopped Herbs, choose any three from the following: Thyme, Rosemary, Parsley, Marjoram, Bay Leaf, Chives, Oregano. Then the Ground Spices a Tsp of each of some (or all) of the following: Paprika, Cinnamon, a Star Anise, 1 Tbsp Worcestershire Sauce, a big grate of Nutmeg, 2 Tsps Mustard.

METHOD:
Generously coat the meat with half the flour, melt the butter in a big frying pan until the foaming stops, throw in the meat and brown on all sides, before removing and placing in your lidded oven pot, preferably a heavy one.
Deglaze the pan with the stock and the red wine, heat up and then add all the spices and fresh herbs and mix it gently through on the heat. Then pour it all into the pot with the meat. Chuck in the onion studded with cloves, and ensure that all the meat is just covered with liquid. Check for seasoning and add salt/pepper. If the meat is not covered then add more stock and red wine mix to cover.
Pop the lidded pot in a preheated 180degC oven for 45 minutes, then drop the temperature to 160degC for a further hour. At the end of that time, check to see if the meat is tender, and if not, then put back in the oven until done to your liking, possibly for a further hour.
When the meat is tender, it is time to thicken the sauce, so remove the meat, remove the studded onion and you will have just the sauce left. If the sauce lacks flavour, then at this stage you may reduce the liquid until it has concentrated itself more. Mix the remaining flour with a little milk or water and beat until it is dissolved. Add this to the sauce in the pan, whisk around until the sauce starts to thicken and then cook with the rest of the added chopped vegetables for a further 45 minutes.
Add the meat back in, heat through and serve.

SERVE WITH: chunks of Farmhouse Bread, or Mashed Potato. Maybe a dash of sour cream across the top to finish it off.

AND TO DRINK ? A big bold red wine.