YOUR PERFECT CHICKEN STOCK: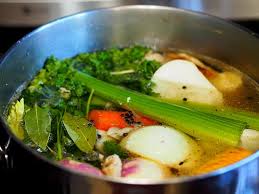 PREP TIME:- 2 MINUTES
COOKING TIME: 90 TO 180 minutes.

INGREDIENTS:- (for 1 to 2L of Stock):

One chicken carcass, a dozen chicken wings, one leek, two onions skin on and quartered, 2 carrots quartered, one clove garlic, two stalks celery and the leaves, 8 black peppercorns, mixed herbs such as bay leaf, parsley (including the stalks), thyme, oregano.
2 litres of water.

METHOD:-

Eat the chicken wings for dinner the day before and keep the bones. Place the chicken carcass in the oven on a high temperature for about 20 minutes or until it has browned up.

In your largest lidded pot, place the chicken bones in the bottom, and throw the vegetables on top. Season with salt and bring to the boil.

When boiling, turn the heat down to a low simmer, pop the lid on and leave for at least 90 minutes to let the flavours mix together. You can leave it on all night if you wish. I try and go for about three hours. Skim off the top of the scum from time to time, although I can't usually be bothered.

Sieve the mixture and return the stock liquid to the pot. Taste for seasoning and strength.

At this point you can reduce the stock to a more concentrated version which takes up less room in the deep freeze. This is generally what I do. If you are doing this, then turn the heat up high and boil vigorously until it is reduced by a half. It needs to taste concentrated.

At this point you may wish to CLARIFY the stock, which is only to be done if you want a consomme, or you want a very clear and pure tasting stock. This is not to be done if you want bone broth, as you are effectively removing many goodies at the same time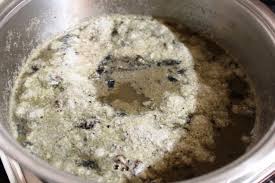 TO CLARIFY the stock you must mix some chicken breast, two egg shells and two egg whites in the liquidiser until a thick paste is formed. Add this to the hot stock and let it sink to the bottom. Then gently return the heat and bring the stock slowly back to the boil, whisking from time to time, but not letting the stock boil properly. The egg whites will attract the "impurities" in the stock and will eventually form a crust on top which you gently remove when formed. The liquid underneath should by now be much clearer than it was before.

TO MAKE BONE BROTH: once the stock is made you may now add more chopped vegetables (whatever you fancy) as well as some diced chicken breast, and make a hearty soup, cooking for a further 20 minutes or so. An easy addition for a more fulfilling meal woud be a cup of long grain rice, or barley, or even pasta.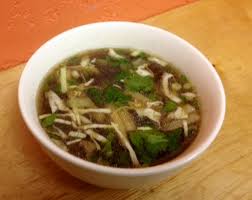 WHEN USING AS STOCK; pop your reduced liquid into jars, label them up and shove them in the deep freeze for whenever you need them.

TIPS: you can use whole chicken wings if you like. Don't use non-browned meat as this really adds depth of flavour. Don't be afraid about leaving all the veggie skins on. Try and use up all those root veggies that you have lying around, starting to rot in the bottom of the fridge in that far flung compartment. Other veggies such as turnip, swede, parsnips and celeriac may all be used to great effect. Do what you like and you will be more likely to end up liking it !!!

This is the same for all the other stocks below:-
BEEF OR VEAL STOCK / BROTH:-

INGREDIENTS: (for 1 TO 2L STOCK):-

2KG Mixed Beef or Veal Bones, being combination of shin (marrow) bones and neck or rib bones (neck is best) Vegetable as per chicken stock.

METHOD: Ask your butcher to cut the bones up into smallish pieces so that they may more easily give up their goodness. Place the bones on a shallow oven roasting tray and brown for 20 minutes on a high 200degC heat.

You need the marrow bones for the marrow and gelatine, and you need the neck bones for flavour, as they are the bones that retain the most meat.

Then follow the same steps as for chicken stock or bone broth if you prefer.

As many of you will perhaps now know, I always keep my used Bovril or Veggiemite Jars, and use them in stocks or sauces for extra flavour. I simply pour in boiling water, put the lid on tightly, shake them around and empty their contents into the stockpot. Repeat until the jar is clean.

SEAFOOD STOCK:- Perhaps the most noble of all stocks, and really useful around the kitchen to make quick sauces that liven up a bit of bland fish. Or use for seafood Paella, Rice dishes, or Seafood Soup / Bouillabaise.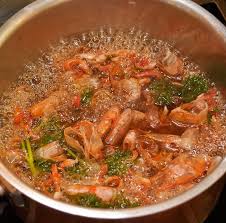 INGREDIENTS:
Prawn and/or Crab shells, 1 kg cheap whole fish from the fishmonger, root vegetables as for chicken stock, only you can also add some tomatoes and a little white wine to this stock. Other fish friendly flavours would be fennel and lots more parsley.

This stock is the best of all to make, as you can eat the prawns and crab one day and make a stock the next to be used in a seafood rice dish the day after, or later on in the week.

The best flavours come from Mud Crab and Green Prawns. The Europeans use little scorpion fish and conger eel, so over here use leatherjackets and sardines. Although you can get away with fish heads if you wish.

The fundamental difference with fish stock is that it only needs about half an hour cooking time to release the flavours. You don't get much in the way of incremental return by cooking it for hours on end as it can go bitter, and it does smell the house out, so less is better.

Tasting your fish stock and reducing it is important as you really do need flavour for Paella or Rice dishes.

The Spanish make a Caldero which is basically good fish stock, half a bottle of white wine, two tablespoons of tomato paste and some saffron, used to cook short grain rice in a big frying pan as you would do a risotto.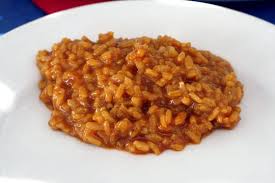 The rice is jam packed with flavour and the Spanish eat this simple dish with a garlic mayonnaise. If the stock is good, then the rice is awesome. I make this dish a lot. Everyone loves it, kids and gown-ups alike. Try it.