ROASTED WAGYU BEEF RUMP WITH A CAPER SAUCE: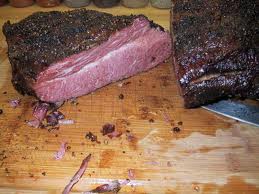 BACKGROUND:- As is usually intended, this recipe is easy to do, and you cannot go wrong as Wagyu is most forgiving. FURTHERMORE, you do not need much per person as it is very rich, so count on no more than 130 to 150g per head. For a family of four that means only half of your Whole Rump Cap, which makes it actually reasonably cheap eating as you don't need as much. With the leftover Rump, cut off a couple of steaks (or more depending on the size of the leftover rump) and keep in the fridge to pan fry or BBQ on another day. And with the remaining 300g or so, make a super quick and super delicious Wagyu Beef Carpaccio (definitely the Rolls Royce of Carpaccios). If we say that the whole wagyu rump weighs in at 1.6kg, then you can have three meals for three to four people for around $56, or $18.50 per meal, or $5 to $6 per head. Considering you would pay at least $35/per head in a restaurant to get a Wagyu Steak of this quality, you can see what a BARGAIN it is to buy from us here. !!!
So don't be put off by the headline kilo price as it goes an awfully long way, and is actually really CHEAP.


PREP TIME:- 15 MINUTES
COOKING TIME: 60 minutes.

INGREDIENTS:- (For 4 to 6 people):

The Richness of the Wagyu really needs the Tartness of the Capers. If you don't like Capers, then use Lemon Juice instead, or Pickles/Gherkins...whichever sour ingredient you do like will do the trick, and will also help enormously with digestion.

A slightly trimmed Wagyu Beef Rump Cap, with a Marble Score of 5 to 6 (no more), weighing between 600 and 900g, depending on how many (4 to 6) people are eating.

FOR THE CAPER SAUCE: 1 Tbsp of Butter, 1 Tbsp Sifted White Flour, a small Cup of Beef or Chicken Stock, 2 Tsps Vinegar, 1 Tbsp of chopped Capers, Salt and Pepper to taste.

METHOD:-

FOR THE ROAST WAGYU BEEF: The beauty of buying a whole rump is that it will keep good in the fridge for ages so you don't need to worry about using it up straight away. So when you are ready, open the packaging and cut off enough to feed 4 to 6 people, bearing in mind you will need 600 to 900g total, so look at the packweight first and make the calculation...more or less.

Remove the beef from the fridge 30 minutes before cooking.
Rub black pepper all over the joint and seal it in a frying pan that has had a little oil heated to smoking point. Seal until brown, then remove and place in a shallow roasting tray and cook in a hot 180degC to 200degC oven, without covering, for 40 minutes.
Remove, inspect, and return to the oven at a lower heat (say 170degC) for a further 20 minutes, or until done to your liking.
Remove from the oven and place to one side to stand and recover, preferably covered with a towel or some tin foil, for about 15 minutes.

FOR THE CAPER/PICKLE SAUCE:- In a frying pan, melt the butter until the foam subsides, then add the flour and beat it in to the butter. Then trickle in the beef stock and keep beating until you have a thick sauce. Add the capers, salt and pepper, and cook for a further 3 minutes on a gentle heat to remove the taste of flour.
Taste and adjust the seasoning to suit.
Keep warm until needed, reheat if necessary, adding a little more liquid if needed.

Slice the beef, remove excess fat, and pour over a generous dollop of sauce, which must be tart.

Serve with Roasted or Mashed Potatoes. And for the vegetables I would keep it simple, maybe some Peas or Green Beans.

The Beef is so rich and has such an intense flavour, that the rest must be simple, and so the meat will speak for itself. For those who have never had it, they will be experiencing something truly unique and something they will most likely never forget.

AND TO DRINK: You need a big RED to go with a big cut of BEEF. So buy the best you can afford and make sure you have a couple of glasses, as the wine will really help with your digestion, cutting through the richness and fat of the beef, and also helping your stomach digest those tricky enzymes associated with rich red meat. One of those occasions when you really are drinking for medicinal purposes...and Oh what hardship !!!