OVEN ROASTED DUCK WITH CLASSIC ORANGE SAUCE: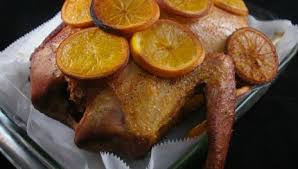 INGREDIENTS: (for 4 People):-

1 Large Size 21 minimum Duck. Zest of a whole, blanched Orange, finely chopped or grated. 1/4 cup of White Sugar, 1/4 Cup of White Wine Vinegar, 500ml of Chicken, Duck or Beef Stock, 1 miniature bottle of Grand Marnier (optional), several knobs of butter. Salt and pepper to taste.


METHOD FOR THE DUCK: With a sharp small knife, prick the duck breast in several places to encourage the fat to render out and thereby allow the skin to go crispy. Rub the bird with salt and pepper, again to encourage the fat to render out.
Place the bird in a shallow oven roasting dish and put into a preheated 180degC fan forced oven and roast for about an hour and a half, maybe a bit longer, depending on how crispy your duck skin is. As a rule of thumb they take about 50% longer to cook than a chicken.

METHOD FOR THE SAUCE:
Pop the orange into boiling water and blanche it for about 30 seconds. Then grate off the zest and set aside.
Boil and reduce the stock to about 1/4 of it's original volume.
In a hot pot on the stove, add the sugar and heat it up until it caramelises and is almost smoking, at which point add the vinegar (slowly), then add the stock and stir to mix. Reduce again if it is too thin. Add the butter a knob at a time to thicken it, then add the orange zest and the Grand Marnier to suit your taste and level of oranginess. The sauce should be the consistency of double cream ideally. Set aside and reheat when needed. Do not pour over the duck, put set it around the carved duck meat on the plate.

Carve the duck as you would a chicken, taking care to ensure that everyone gets a bit of the deliciously crispy skin. The breasts are by far the best bit, so chop them in half, although the drumsticks are not really worthwhile. The meat is richer than chicken and therefore you eat less of it, particularly as the sauce is also rich .

SERVE WITH:- I would serve this dish with oven roasted potatoes, and oven roasted vegetables.

AND TO DRINK:- Duck may be accompanied by either red or white, so take your pick.