SLOW COOKED INSTANT LAMB SHANKS: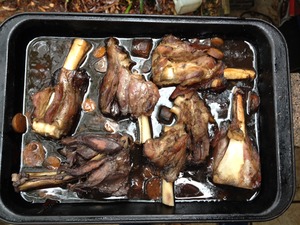 Slow cooking the Lamb Shanks before finishing them off on the Barbie gives you the option of cooking well in advance and finishing them off at the last moment. It also guarantees the meat to be tender and tasty. With Lamb Shanks at only $7.99/kg, I strongly recommend you give this a go.


PREP TIME:- 5 MINUTES
COOKING TIME: 180 minutes, first cook and 4 minutes second cook.

INGREDIENTS:- (for 4 to 6 people):

8 lamb Shanks, with deep incisions made into the flesh to butterfly the shank out a little (see photo above), 1 large Onion sliced, 1 large Carrot sliced, +/- 550mls Red Wine, 500mls decent Stock...could be Beef or Lamb, Salt, pepper, Mixed Herbs.
FOR THE FINAL RUB: 2 TBSPs Soy Sauce, 1 TBPS Sweet Chilli Sauce, 1/2 TBPS Tomato Paste, 1 TBPS Hoi Sin Sauce, 1 TBPS Red Wine Vinegar. All mixed together in a bowl.

METHOD:-

FOR THE LAMB:

FIRST COOKING: Take a shallow Oven Roasting Dish and place a layer of onion slices on the bottom to sit the Shanks on. Place the Shanks on the onion and pour over the wine and the stock, so that the Shanks are partially submerged, maybe upto 1/3 of the way up. Sprinkle the carrot around the sides, and then sprinkle over some Mixed Herbs. Cover the tray in aluminium foil and prick half a dozen holes in it with a sharp knife to let some of the cooking gases out. Pop the lamb in a slow 130 to 140 degC oven for about three hours.
When cooked, drain off the liquid which will be deliciously black and tasty, and reduce this to make a thick sauce. Test for salt and pepper. Cover and put aside until ready for the BBQ.

SECOND COOKING:- Fire up the BBQ to medium heat. Meanwhile brush the cooked lamb shanks with the marinade mix (see above).
Cook the shanks on the BBQ on a not too hot heat for a couple of minutes a side or until the Lamb has browned up and the sauce on it cooked through. Take care not to burn it as it will go to charcoal.

Serve immediately with mashed potatoes.

Pour over the reduced sauce for that extra yummy depth of flavour, and splash it all over the mashed potatoes.

Serve with a salad, or maybe roast some vegetables in the oven next to the lamb.

AND TO DRINK: Some deep, fruity red wine would go well, as expensive as you can get a big Shiraz or Cab Sav...