OVEN COOKED LAMB LEG STEAKS WITH SEASONAL VEGETABLES: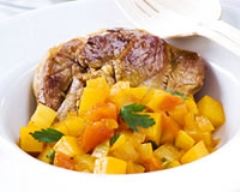 INGREDIENTS: (for 4 -6 People):-

4 - 6 Chunky Cut Lamb Leg Steaks from the Shop.

VEGETABLES: In Summer you could use 1 x Large Red Capsicum, 1/4 Queensland Pumpkin, 4 x Zucchini, 1 x Large Red Onion, 4 Small Tomatoes, Several Garlic Cloves (optional), 1 x Tbsps Chopped Parsley, Two Big Cups of White Wine, 500ml Beef or Chicken Stock, Salt and Pepper to taste

METHOD: In a frying pan, heat up some olive oil until really hot and brown the lamb steaks to seal them for a few minutes each side. Remove from heat.
Dice all the vegetables into 1 inch dice and remove the steaks from the pan, putting some more oil in, heating it up and softening the vegetable dice in it for a few minutes. Remove vegetables and place in a shallow oven roasting dish that has been oiled. Put the pan back on the heat and reduce the white wine by half, then add the stock and reduce by half again. You need a couple of cupfuls left over. Our this over the vegetables and seasn them.

Place the lamb steaks over the vegetables and season the steaks,

Place in a hot 180 to 200degC oven and cook for ten minutes or so until done. Again this will depend upon the thickness of the steaks, and again if you feel the veggies need a bit more cooking then remove the steaks, keep them warm, and return the veggies to the oven for a while longer until soft and a little browned.

The liquid should have reduced to very little, and if it has not, then drain it off, reduce it in a pan and return it to the veggies.

OPTION: you can use red wine if you prefer for deeper flavour and colour.

SERVE WITH:- I would serve this dish with mashed potatoes to soak up the veggie liquid, or perhaps CoucsCous, or even rice.

AND TO DRINK:- with it being summer, I would go a light red wine that has been partially chilled in the fridge for 15 minutes...a Merlot or young Pinot Noir.