DEVILLED LAMB LEG STEAKS WITH PROVENCAL TOMATOES: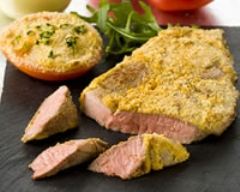 This recipe is REALLY EASY TO DO, and is also quickly made for any midweek supper. Furthermore it is very tasty, as mustard and Worcestershire Sauce always make for a tongue tingling flavour combo. As with the famous Devilled Kidneys, the Lamb Legs take on the flavours, but as Lamb is also full of flavour, it is not lost on the palate. The paring of Provencale Tomatoes also works well and is again very easy to do.


PREP TIME:- 10 MINUTES
COOKING TIME: 25 minutes.

INGREDIENTS:- (for 4 to 6 people):

One lamb leg, cut into large, thick steaks, 1 Tbsps Hot English Mustard (or Mustard Powder), 1 Tsp of Worcestershire Sauce, 1 Tsp of Lemon Juice, 2 Tsps Tomato Paste, big pinch of Cayenne Pepper., Olive Oil, S1/2 cup of Breadcrumbs, salt and Pepper.
For the TOMATOES: 4 large, red tomatoes, half a cup of breadcrumbs, 2 cloves of finely chopped Garlic, 1 Tbsp of Chopped Parsley, Olive Oil, Salt and pepper.

METHOD:-

FOR THE LAMB: Put some Olive Oil in a frying pan and heat until nearly smoking and then throw in the lamb steaks to Brown them on both sides. This will take 2 to 3 minutes per side depending on how hot the oil is. Do not burn.

Remove the steaks from the pan. Meanwhile make the coating for the Lamb Steaks, which is easily done by mixing the Mustard, Worcestershire Sauce, Tomato Paste, Lemon Juice, Cayenne Pepper and some Breadcrumbs. Season to taste, and then coat the Lamb Leg Steaks generously with the mixture. Place them in an oiled, shallow oven dish, and pop the tomatoes next to the steaks and then shove the whole lot in a hot 180degC Oven for a further 15 to 20 minutes (depending how thick your leg steaks are). Careful not to overcook the steaks...you want a bit of blood to still come out when pricked with a sharp knife.. If the Tomatoes look as if they could do with a bit longer (large ones probably would ), then take the leg steaks out, cover them with tin foil, and keep warm until the Tomatoes are done...which is when they are nice and brown on top and the body all saggy and crumpled. Serve immediately with Cous Cous, or Roasted Potatoes (in which case pop them in before the lamb), or Mashed Potatoes would go well as they could pick up the juice from the Tomatoes..

Everything in this recipe is full of flavour, so don't feel bad about offering up bland carbs to go with it...even bread would be good. These tomatoes are absolutely delicious and are eaten all over France, sold in every Deli in France, and punch way above their culinary weight in terms of the complexity of the finished flavours. So easy to make and yet so yummy to eat...

FOR THE TOMATOES:- Cut each Tomato in half and sprinkle the finely chopped garlic on top, followed by some salt and pepper to taste, then the parsley and then the Breadcrumbs. Then douse them in some Olive Oil and finally place them in the oven dish with the Lamb Leg Steaks. Cook with the lamb and leave in for a bit longer if required. If the Breadcrumbs are not nice and crispy brown, then finish them off under the grill to brown.

AND TO DRINK: Some Red Wine would go well, but not an overly big hitter..perhaps a Merlot or some young Cab Sav...