GREEN BEAN SALAD WITH CHOPPED SERANO HAM: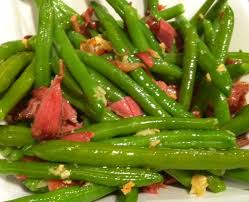 This dish is a Spanish Classic and is really tasty and good for you. It is easy to make and may be played with to suit your tastes (see options below). Ask us if we have any Serrano Ham ends as this is a classic dish to make use of them, and works our cheaper than using the slicing part of the leg.

INGREDIENTS: (for 4 -6 People):-

400g of Green Beans (topped and tailed), 100g of Serrano Ham (preferably a thick lump, not sliced), 1 small Spanish Onion, diced small, 1 clove of Garlic (finely chopped), 1 Bay Leaf (optional), salt, pepper to taste, Olive Oil to dress.

METHOD: Boil some water in a pan, salt it, add the Bay Leaf, thrown in the Beans and cook for about 5 minutes until still a bit crunchy. Drain and put aside to cool.
In a frying pan, put a good dollop of Olive Oil and gently fry the Onion and Garlic for a few minutes to soften, then add the Serrano Ham and cook for a further 2 minutes to mix the flavours.
Add the beans to the pan and cook again for a couple of minutes to mix the flavours.

OPTION: you can either serve this dish warm, straight from the pan, drizzling a little more Olive Oil onto it just before serving, OR you can serve it cold, and add a mild dressing of Olive Oil and Balsamic Vinegar to it. It will keep for a few days in the fridge.

SERVE WITH:- I would serve this dish as a light lunch, or as a first course, and would drink some Sherry, Spanish Fino or a full flavoured White Wine, such as a Muscadet, Reisling or Wooded Chardonnay, as I haven't given up on Wooded Chardonnays...even thogh they have fallen temporarily out of fashion.